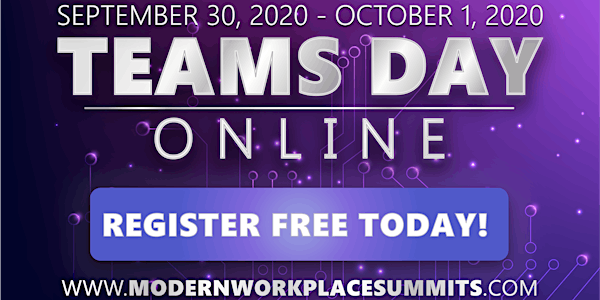 Microsoft Teams Day Online
Modern Workplace and Microsoft Teams online conference
About this event
This is a FREE two-day event September 30 - October 1 featuring sessions from Modern Workplace and Microsoft Teams Experts. Our mission is to freely share knowledge to build the Global Modern WorkPlace and Microsoft Teams communities.
Our event is geared towards building a community of business decision-makers, sponsors, champions, power users and end-users for Microsoft Teams. Our mission is to enable them with real-world examples of how a Modern Workplace with Microsoft Teams can drive more value for their business and end-users. One aspect of this mission will be to focus on serving the more than 2 billion first-line workers with solutions to the problems they are facing using Microsoft Teams.
We have over 100 speakers presenting sessions over two days. More than 10 Microsoft speakers, 50+ Microsoft MVPs and 40+ community experts have chosen #TeamsDayOnline for how they will share information and their expertise with the Microsoft Teams community.
We have designed learning pathways for each of your audience of users from beginners to business leaders power users to developers and admins. These learning pathways include:
Beginners
Firstline Workers
Healthcare workers
Retail workers
Education workers
Productivity
3rd party collaborations
Teams Meetings
Security and Compliance
Real World Solutions
IT Pro/admin
User Adoption
Governance
Developers
Apps/Bots/Connectors
Spanish
German
French
Visit our website at www.modernworkplacesummits.com for all the speakers, sessions details and schedule.
If you are interested in sponsoring or have any questions, please email us at info@modernworkplacesummits.com