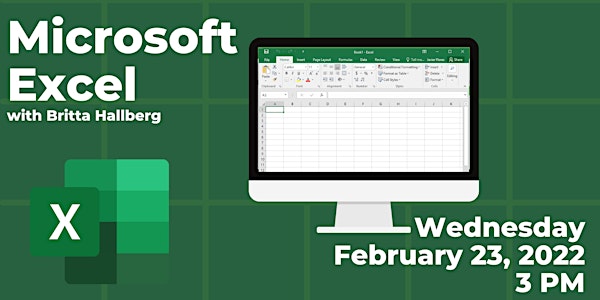 Microsoft Suite: Excel
Cell formatting, filters, layouts-- let's dig deep and get Excel to do our heavy lifting!
Date and time
Wednesday, February 23, 2022 · 12 - 1pm PST
About this event
Excel is one of those incredibly useful programs, but it can also be pretty daunting. Cell alignment, format, page set up, tables, wrapping...there are so many tools- and we haven't even gotten started on formulas!
As part of our Microsoft Office series, we will reacquaint ourselves with Excel, the good, the bad, the tricky. You'll come away with a few new tips and hopefully a roadmap to make this platform work for you!
About Britta Hallberg
Britta Hallberg is the Programs Manager for Grafton Regional Development Corporation. In her role with GRDC, she's responsible for marketing, programming, grant administration, and building operations. With so many balls in the air, spreadsheets are the way to go. With more than 15 years working in excel, she's amassed a store of first-hand experience that can help you increase your efficiency and productivity.
This workshop is presented in partnership with River Valley Community College, Coös Economic Development Corporation and is made possible by NCIC with support from CDFI and funded in part through a grant with the U.S. Small Business  Administration.
About the organizer
Celebrating over 20 years of local impact, Grafton Regional Development Corporation (Grafton RDC) is a 501(c)3 non-profit organization dedicated to supporting our business community and the economic development goals of the 39 municipalities we serve.
Our mission is simple: to strengthen local businesses and communities, grow the economy, and foster community support networks that create jobs and build wealth within Grafton County.
Among the many partnerships we've developed, Grafton RDC supports startups and growing businesses through our two business incubators, the Enterprise Center at Plymouth and the Dartmouth Regional Technology Center - a partnership with North Country Council, Dartmouth College and the NH Division of Economic Development.