Description
Microsoft Project is an excellent tool that enables you to actualize project management "best practices" to help your project succeed. Learn how to build, publish, and manage project schedules, issues, risks, deliverables, resources, and documents across an enterprise with Microsoft Office Project Server.
Project Managers will learn to build, track and manage project schedules with Microsoft Office Project Professional and publish them to Microsoft Project Server, and how to track, analyze, and report on projects through Project Web Access.
Included Materials
This course includes a complimentary copy of Advisicon's Microsoft Project Server 2010: Project Manager's Guide book.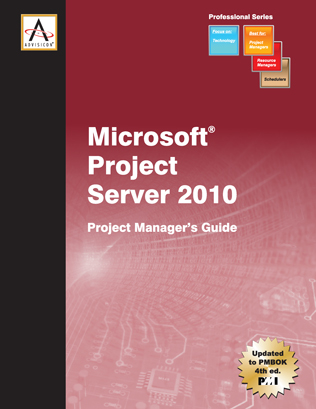 Course Overview
Participants will learn to:
Understanding Project Server as a Project Management Tool
Program and Portfolio Management with Project Server
Understanding Project Server Roles
Building Project Schedules
Working with Resources and Schedules
Views, Filters, Sorting, Finding, and Grouping
Reporting in Project
Formatting and Printing Project Schedules
Overview of Project Web Access
Reporting and Data Analysis in Project Server
Time and Task Management
Microsoft Office Project and Project Server Best Practices
Organizer of Microsoft Project Server 2010 for Project Managers
Who We Are
Advisicon is a Project, Program & Portfolio Management Company. We transform your organization's project management with a mix of methodology and technology that delivers results. Our team specializes in technology implementations, application and workflow development, training and consulting.
We are authors, teachers, consultants and technologists who are passionate about helping your organization learn, scale and grow.
As a Gold Microsoft PPM partner and certified by PMI, we take pride in our accomplishments and customer relationships. We work hard to deliver an experience you won't have anywhere else. We are invested in your success and are here to support you before, during, and after the job is done.
We understand your time is valuable and strive to keep each training dynamic, relevant and interactive. We offer three consumable avenues for our trainings:
In person at our local Training Center
Visit our website to view our case studies and learn more about how we can assist you at www.advisicon.com.