Description
7 PDUs are available for this course
Course Description
This course uses an interactive, comprehensive approach to teach the core techniques needed to create a basic, working project schedule using Microsoft Project 2010. Students will learn to edit and organize projects, assign resources to tasks and use Project views to manage projects. This course uses hands-on training techniques to teach students the skills needed to master scheduling methodologies in our advanced training facility.
Included Materials
Those who enroll in Advisicon's Microsoft Project 2010 Fundamentals of Schedule Development Course will receive a proprietary book written by Project MVPs and MCTSs, combining over 50 years of industry experience. This course manual outlines the best uses for Microsoft Project Desktop for use in project management scheduling and progress tracking. Students are required to bring their own laptops for use in this course. Advisicon can provide laptops for an additional fee of $100 if needed.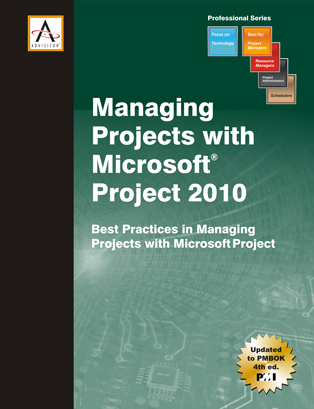 Who should take this course?
This is an introductory level course intended for project schedulers, project team members, project managers… and anyone who has used Microsoft Project Professional and had a hard time getting it to do what they wanted!
Course Instructors & Accreditation
Advisicon is a PMI Registered Education Provider and an accredited Microsoft Gold Certified Partner. This course will be taught by an experienced Advisicon instructor, all of whom are industry experts in the field of project management. Read more about the Advisicon instructors.

Learning Objectives
Participants will learn to:
Apply their understanding of the Project Management Lifecycle based on the Project Management Body of Knowledge (PMBOK)

Utilize the Project 2010 ribbon & fastest schedule building techniques

Use MS Project overview and Project Pitfall Avoidance

Use a dynamic schedule by managing tasks with deliverables and avoiding constraints and other Bad Practices

Incorporate the do's and don'ts of working with Microsoft Project Professional into their procedures

Create, manage, and update effective project schedules

Develop a variety of techniques for planning and managing risk, communications, resources, scope and quality

Navigate shortcuts through project plans

Create and manage resources and assignments

Track and progress work easily and efficiently

Utilize different project views

Printing and communicating schedules to external resources

Use formatting tricks for automating critical path tracking

Organizer of Microsoft Project 2010 Fundamentals of Schedule Development
Who We Are
Advisicon is a Project, Program & Portfolio Management Company. We transform your organization's project management with a mix of methodology and technology that delivers results. Our team specializes in technology implementations, application and workflow development, training and consulting.
We are authors, teachers, consultants and technologists who are passionate about helping your organization learn, scale and grow.
As a Gold Microsoft PPM partner and certified by PMI, we take pride in our accomplishments and customer relationships. We work hard to deliver an experience you won't have anywhere else. We are invested in your success and are here to support you before, during, and after the job is done.
We understand your time is valuable and strive to keep each training dynamic, relevant and interactive. We offer three consumable avenues for our trainings:
In person at our local Training Center
Visit our website to view our case studies and learn more about how we can assist you at www.advisicon.com.