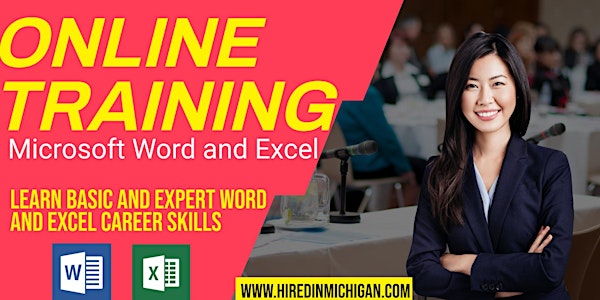 Microsoft Office and Resume Writing Workshop
Detroit Microsoft Office Training Workshop. Call for details at 248-237-3600, Hired In Michigan Career Institute
When and where
Location
Best Western Premier Executive Residency Detroit Southfield Hotel 26555 Telegraph Road Southfield, MI 48033
About this event
Basic Microsoft Office Workshop (Word and Excel) - COST $ 99.00
Participants can easily attend all of these lessons from your home with our world-class online platform for 30-days.
Microsoft Word - Participants will gain a fundamental understanding of the Microsoft Word environment and the ability to complete tasks independently. They will demonstrate the correct application of the principle features of Word by creating and editing documents for a variety of purposes and situations. Document examples include professional looking reports, multi-column newsletters, resumes, and business correspondence.
Microsoft Excel - Participants will create, manage, and distribute professional spreadsheets for a variety of specialized purposes and situations. They will customize their Excel environments to meet project needs and increase productivity. Expert workbook examples include custom business templates, multi-axis financial charts, amortization tables, and inventory schedules.
FREE RESUME WRITING WORKSHOP
Bring an extra resume to the workshop. This resume workshop provides detailed explanations, as well step-by-step processes, for creating an effective resume. Create an effective resume or improve the one you already have. Transform your resume into a powerful tool that will get you interviews. Learn different resume formats and the advantages and disadvantages of each. Make the most of your work experience and discover how to use references to your advantage. The workshop is available every 60-minutes starting at 9:00 a.m.
RESUME WRITING WORKSHOP IS FREE TO ATTEND
What is a resume? A resume is a brief document that summarizes your education, employment history, and experiences that are relevant to your qualifications for a particular job for which you are applying. The purpose of a resume (along with your cover letter) is to get an interview.
RECEIVE ACCESS TO LIVE- RESUME TRAINING
DATE AND WORKSHOP TIMES
• Thursday, December 15, 2022
• 9:00 AM TO 10:00 AM
• 11:00 AM TO 12:00 PM
• 1:00 PM TO 2:00 PM
• 2:00 PM TO 3:00 PM
WORKSHOP LOCATION
• Best Western Premier Hotel
• 26555 Telegraph Road., Southfield, Michigan
Note: Microsoft Office Training is not free, cost is $ 99.00 and must be purchased on Eventbrite website.