Description
The Office 365 and SharePoint Community invites you to the second annual Office 365 & SharePoint Saturday Conference in San Juan!

A completely FREE one day conference where you will find technical sessions focused on Microsoft Cloud offerings like Microsoft 365, Business Applications and Azure Cloud Services. Topics include Modern Workplace, Office 365, Microsoft Teams, PowerApps, SharePoint, OneDrive, The SharePoint Framework (SPfx) and more.

15+ International MVP's, Microsoft Professionals and community leaders will be available for questions and advice! This is a GREAT chance to network with the experts and the local technology community in Puerto Rico! The event is designed for Technology Professionals, Programmers, Developers, Business Startups and Students. The presentations are primarily business English. Some sessions will be translated.

Coffee and lunch will be served. Prize giveaways include Surface Go! Tickets for two of the largest SharePoint conferences in the industry, SPC and SPTechCon hosted this year in Las Vegas and Austin, TX. SPfx training class from Voitanos and more!

After the conference please join us for a special SharePint cocktail and networking social event at Ladi's Place Restaurant, Avenida Luis Muñoz Rivera in San Juan at 6PM!

Twitter: @spscaribbean #spspr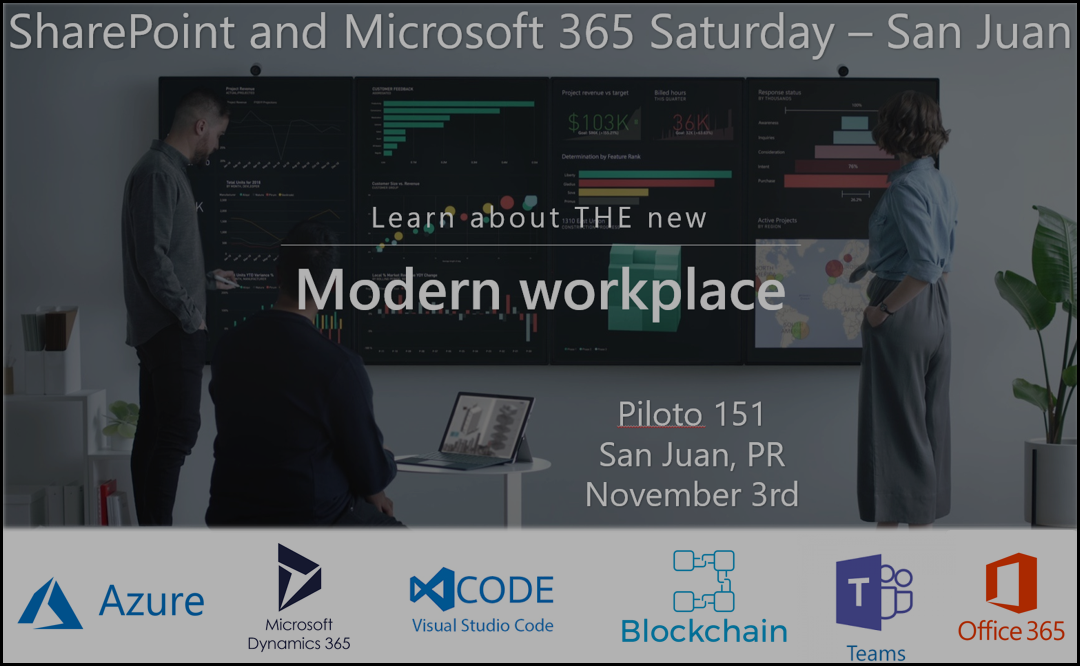 La comunidad de Office 365 y SharePoint le invita a la segunda conferencia anual de la oficina 365 & SharePoint Saturday en San Juan!
UNA conferencia de un día totalmente gratuita en la que encontrará sesiones técnicas centradas en ofertas de Microsoft Cloud como Microsoft 365, aplicaciones de negocios y servicios de nube Azure. Los temas incluyen el lugar de trabajo moderno, Office 365, equipos Microsoft, PowerApps, SharePoint, OneDrive, el Framework de SharePoint (SPfx) y mucho más.
15 + MVP internacional, profesionales de Microsoft y líderes comunitarios estarán disponibles para preguntas y consejos! Esta es una gran oportunidad para la red con los expertos y la comunidad tecnológica local en Puerto Rico! El evento está diseñado para profesionales de la tecnología, programadores, desarrolladores, startups de negocios y estudiantes. Las presentaciones son principalmente Inglés de negocios. Algunas sesiones serán traducidas.
Se servirá café y almuerzo. Sorteos incluyen Surface Go! Entradas para dos de las más grandes conferencias de SharePoint en la industria alojadas este año en las Vegas y Austin, TX. ¡ Clase de entrenamiento de SPfx de Voitanos y más!
Después de la Conferencia por favor únase a nosotros para un cóctel SharePint especial y evento social en red en el restaurante Ladi Place, Avenida Luis Muñoz Rivera en San Juan a las 6PM!
Twitter: @spscaribbean #spspr