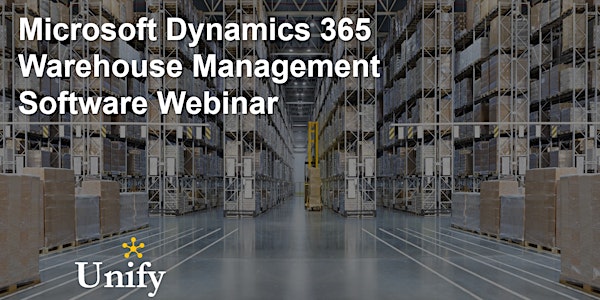 Microsoft Dynamics 365 Supply Chain Warehouse Management Software Webinar
Microsoft Dynamics 365 Supply Chain Warehouse Management Software Webinar
About this event
Optimize warehouse and distribution processes with Microsoft Dynamics 365 Supply Chain Warehouse Management ERP Software and ensure on-time delivery and order fulfillment.
Join our webinar to learn about the powerful functionality of this purpose-built, fully automated warehouse solution that allows you to manage costs, prevent shortages and overstocks and identify your best-selling and most profitable products.
Event Schedule
ASIA-PACIFIC: January 24, 2022. 11:00AM SGT | 1:00PM AEST.
NORTH AMERICA: January 26, 2022. 3:00PM Pacific Time.
Microsoft Dynamics 365 Warehouse Management features include
-Inventory status controlling the inventory properties
-Enhanced and more detailed order picking, packaging, shipping, and delivering process
-Item traceability to track each stock by serial, lot and batch numbers, expiration dates, revision level
-Capacity tracking as well as auto-suggestion of inventory locations
-Enhanced cycle counting
- Barcode/QR code label generation, as well as scanning capability of inbuilt warehousing mobile app