Complimentary AI900 1 Day Instructor-led online training - December 9, 11, 18, 19 (9am - 5pm GMT+8)
About this event
Bridging the Gender Gap in Tech
Artificial Intelligence Fundamentals AI900 - More information
Dates:
14, 15, 28, 29 January
11, 12 February
Dates:
21, 22 January
4, 5, 18,19 February
It is a simple truth: the field of technology is far too male-dominated. According to recent research by the World Economic Forum and LinkedIn, only 22% of jobs in artificial intelligence are held by women, with even fewer holding senior roles.
Artificial intelligence will reshape every corner of our lives in the coming years—from healthcare to finance, from education to government. It is therefore troubling that those building this technology do not fully represent the society they are poised to transform.
"In order to get a more diverse workforce in AI, we need to increase the pipeline, hire more women and minorities into AI positions and create an environment that gives them opportunities to thrive so that we can retain them," offered Jennifer Chayes, Managing Director of Microsoft Research New England, NYC and Montreal. Technology could benefit or hurt people, so the usage of tech is the responsibility of humanity as a whole.
The training and exam is sponsored by Microsoft and is free of charge for Women who want to certify and work in the field of AI. The training is limited to 30pax per session.
Fully Sponsored Microsoft training for Women
If neither of the dates suit you, register your interest in other sessions here - bit.ly/registerwai for future batches. We will keep you informed when the sponsored training happens again.
Prerequisites:
Candidates for this training should be residents of Malaysia, Singapore, Indonesia, Philippines, South Korea, Thailand, Sri Lanka, Bangladesh, Laos, Cambodia, Brunei or Vietnam.
Basic knowledge of machine learning (ML) and artificial intelligence (AI) concepts and related Microsoft Azure services is useful.
This training is intended for candidates with both technical and non-technical backgrounds.
Registering for the training requires candidates to commit to a full day training which is followed by a AI-900 certification exam.
Key Benefits of Microsoft Certification
Candidates will receive a vast amount of knowledge on Artificial Intelligence and the ability to identify Microsoft Azure services to support them. Grow your career as an Azure Data Scientist Associate or Azure AI Engineer Associate with the fundamental knowledge of Microsoft Azure AI Fundamentals certification. IT market is flooded with jobs for people who work with data and use Microsoft Azure Services. Candidates having Microsoft certification badges in their CV have a huge advantage. Certification is a quick way to let others know that your skills have been validated.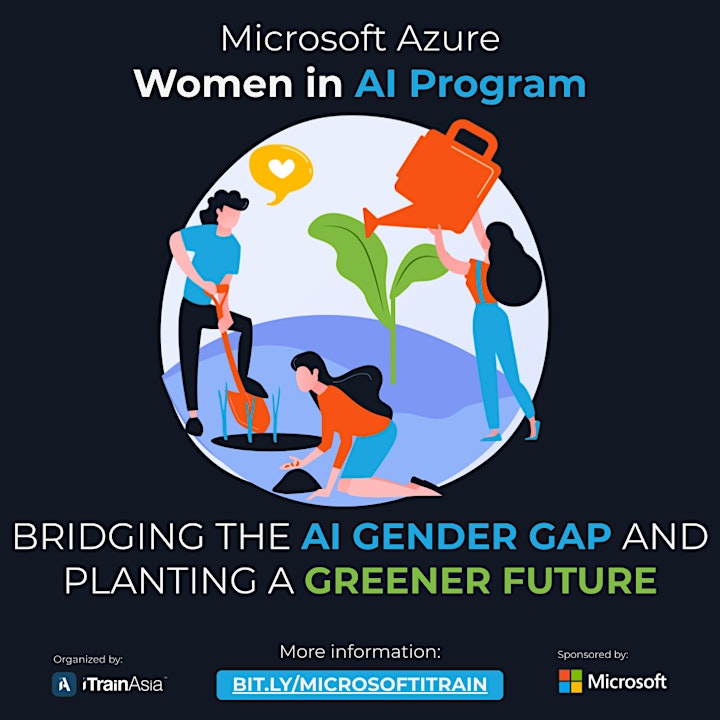 Upon completion of the Women in AI Program and receiving Microsoft AI 900 Certification, a digital tree is mapped to an actual tree that is planted in various parts of the world to re-develop the world's forests. Certified trainees can take pride in knowing that they have contributed to environmental conservation. A unique digital code will be provided to them to view the actual location of their tree within our Azure Developer Community Forest. Keep track of the precise location of the tree planted, the farmer who is taking care of it, and much more. Digital tree owners can also easily share the tree experience on social media, amplifying the tree initiative.
All Women in AI Program attendees also have the exclusive possibility to continue their upskilling with a fully sponsored 3 day AI102 certification training https://docs.microsoft.com/en-us/learn/certifications/exams/ai-102

Register for fully sponsored Data Fundamentals and Engineer trainings
https://docs.microsoft.com/en-us/learn/certifications/exams/dp-900
AI900 Course outline
Module 1: Introduction to AI
In this module, you'll learn about common uses of artificial intelligence (AI), and the different types of workload associated with AI. You'll then explore considerations and principles for responsible AI development.
Lessons
Artificial Intelligence in Azure
Responsible AI
After completing this module you will be able to:
Describe Artificial Intelligence workloads and considerations
Module 2: Machine Learning
Machine learning is the foundation for modern AI solutions. In this module, you'll learn about some fundamental machine learning concepts, and how to use the Azure Machine Learning service to create and publish machine learning models.
Lessons
Introduction to Machine Learning
Azure Machine Learning
After completing this module you will be able to:
Describe fundamental principles of machine learning on Azure
Module 3: Computer Vision
Computer vision is a the area of AI that deals with understanding the world visually, through images, video files, and cameras. In this module you'll explore multiple computer vision techniques and services.
Lessons
Computer Vision Concepts
Computer Vision in Azure
After completing this module you will be able to:
Describe features of computer vision workloads on Azure
Module 4: Natural Language Processing
This module describes scenarios for AI solutions that can process written and spoken language. You'll learn about Azure services that can be used to build solutions that analyze text, recognize and synthesize speech, translate between languages, and interpret commands.
After completing this module you will be able to:
Describe features of Natural Language Processing (NLP) workloads on Azure
Module 5: Conversational AI
Conversational AI enables users to engage in a dialog with an AI agent, or bot, through communication channels such as email, webchat interfaces, social media, and others. This module describes some basic principles for working with bots and gives you an opportunity to create a bot that can respond intelligently to user questions.
Lessons
Conversational AI Concepts
Conversational AI in Azure
After completing this module you will be able to:
Describe features of conversational AI workloads on Azure
Fully Sponsored Microsoft training for Women
Supporting Partners: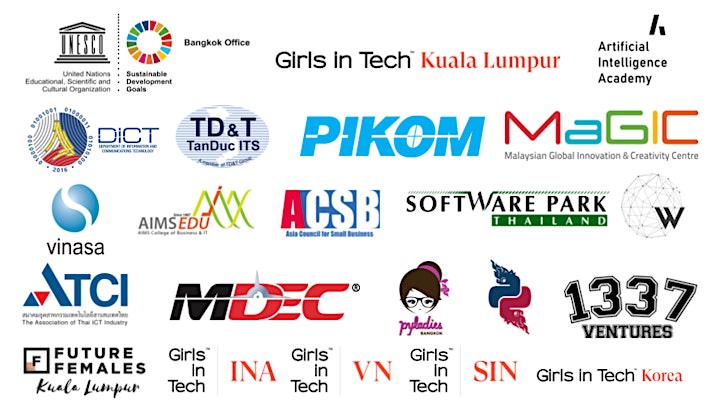 Organizer of Microsoft Azure Women in AI Program
iTrain Asia Pte. Ltd. with its headquarters in Singapore is a Digital Tech Certification Exam Body registered with IMDA - Info-communications Media Development Authority of Singapore (formally known as IDA Singapore) that provides latest digital tech certification exams, course materials and also trainings via its Authorised Training Partners (ATP). Its certifications are currently being rolled out to Individuals, Corporates and also Universities throughout 26 countries in Asia.
iTrain Asia has trained and certified more than 50,000 candidates to date.
Digital Tech Certification Exam Portfolio:
1) ANDROID CERTIFIED ASSOCIATE DEVELOPER (ACAD)
2) IOS CERTIFIED ASSOCIATE DEVELOPER (ICAD)
3) BLOCKCHAIN CERTIFIED ASSOCIATE DEVELOPER (BCAD)
4) CERTIFIED DATA SCIENCE SPECIALIST (CDSS)
5) CERTIFIED IOT SPECIALIST (CIoTS)
6) CERTIFIED DIGITAL MARKETING SPECIALIST (CDMS)
7) CERTIFIED CYBER SECURITY SPECIALIST (CCSS)
8) MACHINE LEARNING CERTIFICATE (MLC)
9) DEEP LEARNING WITH NVIDIA GPUS CERTIFICATE (DLC)
10) CERTIFIED PYTHON PROGRAMMER for DATA SCIENCE (CPPDS)
11) CERTIFIED R PROGRAMMER for DATA SCIENCE (CRPDS)
12) FINTECH FOUNDATION CERTIFICATE (FFC)