Description
About the Course
We're very excited to launch this new and original hands-on developer bootcamp focusing on Microsoft Azure Cognitive Services!
Azure Cognitive Services provide a powerful, comprehensive suite of prebuilt artificial intelligence and machine learning tools that can be quickly and easily integrated into existing or new applications. Intelligent features such as face detection, speech recognition, image classification, and language understanding can now be implemented in minutes rather than months.
In this course, we will cover the following Azure Cognitive Services:
Vision - Computer Vision | Custom Vision | Face | Video Indexer
Speech - Speech to Text | Text to Speech | Speaker Recognition | Speech Translation
Language - Text Analytics | Language Understanding | Text Translation
Knowledge - QnA Maker | Bot Service
Who is it for?
This course is for professionals or enthusiasts who wish to immediately apply prebuilt AI/ML solutions in their projects, or learn how the Azure Cognitive Services can be rapidly and easily deployed to infuse their apps with cutting edge intelligence. The training is hands-on with some light coding, emphasizing "out-of-the-box" solutions provided by Azure.
While the training is developer oriented, executives and managers who wish to learn how Azure Cognitive Services can impact their businesses will also benefit greatly from this course.
Objectives
Upon completion of this course, students will be able to rapidly build real world, AI enabled applications utilizing the Azure Cognitive Services.
Prerequisites
Students should have a basic understanding of software development, and should bring their own laptop in order to complete the hands-on exercises. An active Azure account is also required (free trials are available, and all exercises in this course can be completed using the free / experimental tiers of Azure).
Duration
1 day (8 hours)
About the Instructor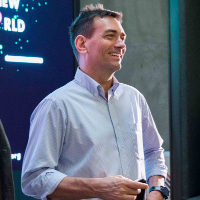 The instructor for this course is Mr. Scott Jones, an industry veteran with over 25 years of experience in software development and education.
Mr. Jones served for nearly a decade as Senior Lecturer, School of Information Technology, Nanyang Polytechnic in Singapore. He was responsible for all facets of student teaching and curriculum development for several tertiary and specialist diploma programs, including: Information Technology, Business Informatics, Financial Informatics, Information Security, Business Enterprise IT, and Engineering Informatics.
Additionally, Mr. Jones held a research position at Hong Kong Polytechnic University, where he worked on OpenCog, an ambitious project to create an open source framework for Artificial General Intelligence (AGI).
Mr. Jones holds a B.S., Computer Science, California State University, and is Microsoft certified in Artificial Intelligence (DAT263x) and Machine Learning (DAT275x). He was also awarded the Certificate in Teaching & Learning from Nanyang Polytechnic.
---