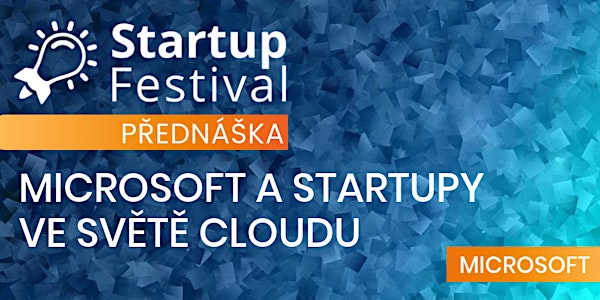 Microsoft a startupy ve světě cloudu
Jak cloudové služby mění svět startupů a jaké technologie mu dnes vládnou? Jak to vidí Microsoft se dozvíte na jejich přednášce.
When and where
Location
Vysoká škola ekonomická v Praze 1938/4 náměstí Winstona Churchilla 130 67 Praha 3 Czechia
About this event
Cloudové služby mění startupový svět. Přijďte si poslechnout, jaké technologie využívají přední české startupy a jaké benefity v nich vidí. Také se můžete těšit na praktické ukázky a zjistit, jak se Microsoft mění, a co začínajícím podnikatelům nabízí.
Kdo vás tématem provede?
Přednášku povedou Denisa Brabcová - Account Executive a Jakub Kudela - Account Technology Strategist společnosti Microsoft.
Interaktivní přednáška proběhne v Rajské budově VŠE v učebně RB 101. Nevíte, jak se do učebny dostat? Nevadí! Navigace na místě Vás do učebny dovede.
Zajímají Vás další akce ze Startup Festivalu?
Na Startup Festivalu vás čeká ještě více přednášek, workshopů a panelových diskuzí. Pro více informací navštivte náš web nebo sledujte fb event!
Na letošním Startup Festivalu se představí začínající startupy, ale i ostřílení hráči na trhu. Poznejte českou startupovou scénu offline v jeden den a ve skvělé festivalové atmosféře.
Těšíme se na Vás už 11. 10. 2019 na VŠE!