Join us in Microsoft 365 Developers Community Call - July 2021
About this event
The Microsoft 365 Developers community call, the last Friday of each month, covers the latest changes in the Microsoft 365 Developer topics within last month, including news, UserVoice update and community contributions.
With so many in-person events canceled, it can be challenging to stay connected to Microsoft MVPs/ M365 engineers. Join various engineers from Microsoft 365 Developers community in a very informal and open hour where we can chat about recent happenings, MVPs and engineering can ask questions. Have a roadmap question? Seeing a technical problem in your communities? Want to know what's happening with your favorite tech? Want to call out something dumb we did recently? Bring your top concerns, suggestions, and more. Speak up, and don't be shy -- the agenda is driven by you. :)
These are 100% interactive sessions, without any formal planned presentations. Different engineering folks will participate from meeting to meeting. Webcams and mics highly encouraged, but not required. If there are no questions or discussion topics, then feel free to join and enjoy your beverage of choice in the company of your peers.
This event is being organized by, Rezwanur Rahman, Senior Technical Lead at Microsoft 365 Global Operations, with the support of Mahmuda Maleque, Organizer, Microsoft 365 Bangladesh Events.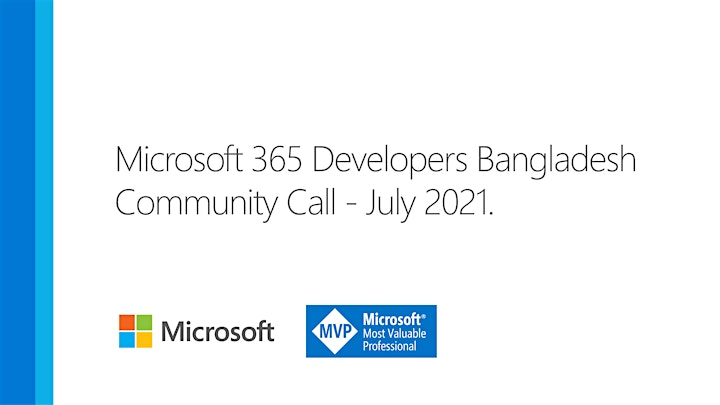 Organizer of Microsoft 365 Developers Bangladesh Community Call - July 2021