Description
Los proyectos de StartUpChile se organizan en tribus temáticas que se reúnen para compartir experiencias y generar contenido, ahora esa experiencia y contenido lo ponemos a disposición de la comunidad local.Los queremos invitar a 5 reuniones donde conversaremos con algunos proyectos destacados de Startupchile que comentarán acerca de como ganarte la vida (y viajar por el mundo) con tus propias ideas. Emprendedores de todo el mundo se sientan a contarte lo que hacen, como lo hacen y motivarte a hacerlo tu también.
Sus anfitriones serán Camilo Anabalon y Macarena Pola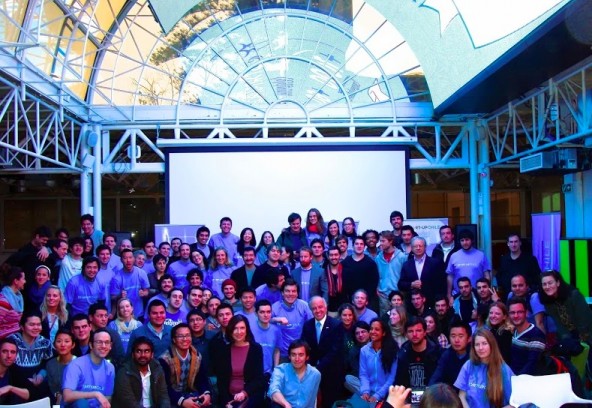 Las charlas serán en ingles y son las siguientes:
1. Martes 15 Octubre: 19:00
HARDWARE.
Check out the hardware tribe, a laid-back SUP resource facilitated by two girls who successfully founded a cancer -seeking glove and a large-scale 3D printer in Generation 6. The Hardware Tribe supports a vast variety of companies, from 3D Printing, medical technology, agriculture technology, and robotics. We have close relationship with the local hardware co- working and community spaces in Santiago, including the STGO MakerSpace, and also going to host a HW workshop for kids soon.
Empresas:
Fabsie (http://fabsie.com/)
Ecoswarm https://www.ecoswarm.com/
2. Lunes 28 de Octubre: DESIGN.
Design tribe is a community of design-conscious entrepreneurs at Start- Up Chile, who share knowledge and education regarding design and working with designers to SUP Entrepreneurs, and provide specific design feedback in quick design review sessions.
Empresas: Medikal http://medikal.com/
3. Martes 07 de Noviembre:
HEALTH AND LIFE SCIENCES
We are a tribe of entrepreneurs all passionate about innovation in the health space. This group is a place to exchange concerns and ideas, and ultimately find solutions to some of our world's largest problems.
Empresas:
Pump:http://noticias.unab.cl/universidad/proyecto-de-ingeniero-en-biotecnologia-unab-es-seleccionado-por-start-up-chile/
Babybe http://anabalon.cl/babybe/
4. Martes 12 de Noviembre: TECH.
This is where the geeks and wannabe geeks unite. We help entrepreneurs learn, understand new technologies and how it can help their startups. We are more workshops, less meetings. Less talk, More action.
Empresas:
Houdiniapp http://houdiniapp.com/
Bgify http://bgifty.com/


5. Martes 19 de Noviembre: Sustainability
We are the ones who take the world in our hands and make it better.
Empresas:
Renooble https://renooble.com/
Totus Power (http://shivr9.wix.com/main-website---cut-1)