Description
Generously sponsored by Illumina Inc.
Microfluidics Empowering Lab Automation
Please join us on October 11th, 6:00 – 9:00 pm, at Illumina Inc.'s new campus in Foster City. 15 lucky attendees will have the opportunity to take a 30min tour of Illumina's new campus.
This event is FREE to all participants. We look forward to seeing you there!
Event Program
5:30 pm:
Optional tour of Illumina's new Foster City campus (limited to 15 attendees by lottery. Selected participants will be notified by email.)
6:00 pm:
Registration, networking and buffet
6:40 pm:
6:50 pm:
Keynote speaker 1: Prof. Polly Fordyce, Bioengineering (and Genetics), Stanford University
Keynote speaker 2: Dr. Sammy Datwani, Sr. Director, R&D, Principal Engineer, Labcyte Inc.
Discussion with speakers: (Moderator) Dr. Don Arnold, CEO, Veristad
8:15 pm
Job board (If you would like to post jobs, please contact us.)
8:30 pm
Call for Volunteers!
If you are interested in volunteering for this event and/or for future events, please join us by signing up here.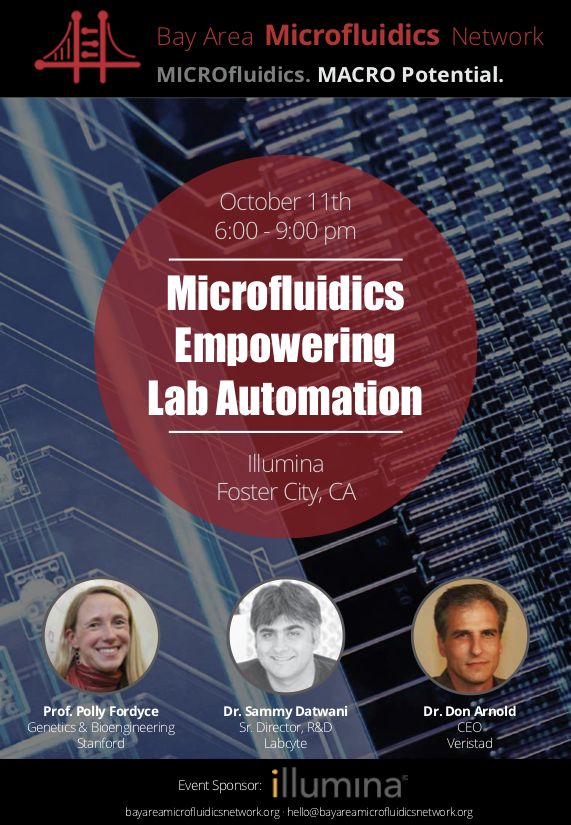 Learn more about Bay Area Microfluidics Network!