Microfluidic Techniques for Lysing, Purification and Bead-based Detection of Nucleic Acids from Complex Samples

Thursday, May 29, 2014 from 6:00 PM to 7:30 PM (PDT)
Event Details
Come join ASME Silicon Valley Section Technical Dinner Talk
"Microfluidic Techniques for Lysing, Purification and Bead-based Detection of Nucleic Acids from Complex Samples"
Invited Speakers:
Anita Rogacs, Ph.D, Research Engineer
Hewlett-Packards Laboratories, Palo Alto
Earn 1.0 Professional Development Hours*
"[Sample preparation] is the weak link in microfluidics-based detection" - Mariella, Biomed Microdevices (2008) 10:777
Abstract: 
This talk presents three key aspects of microfluidic-based sample preparation and detection of nucleic acids.
First, the challenges of nucleic acid extraction from complex sample matrices (such as blood) is discussed. Addressing these challenges is a novel approach, which uses a unique lysing method combined with isotachophoresis (ITP) to perform rapid RNA extraction from bacteria infected whole blood. This on-chip assay is unique in that the extraction can be automated using isotachophoresis in a simple device with no moving parts, it protects RNA from degradation when isolating from ribonuclease-rich matrices), and produces a purified total nucleic acid sample that is compatible with enzymatic amplification assays.
Second, the effect of temperature on various sample preparation processes, including electrophoretic separations and enzymatic or hybridization reactions, is discussed. Fluctuations in temperature can change the pH, and ionic strength of the solution, and can alter the electrophoretic mobilities of the sample and background ions. A fairly comprehensive temperature model for the simulation and optimization of temperature effects on these critical solution properties will be presented.
Finally, a cost-effective and simple-to-implement nucleic acid detection method, termed particle imaging, tracking and collocation (PITC), is presented. This method analyzes images of randomly distributed and flowing multicolor fluorescent particles using fairly standard epifluorescence microscopy and an off-the-shelf dual view color separator. The method has been demonstrated on an assay which quantifies particle-to-particle binding due to particle probe hybridization to an E.coli 16S rRNA gene.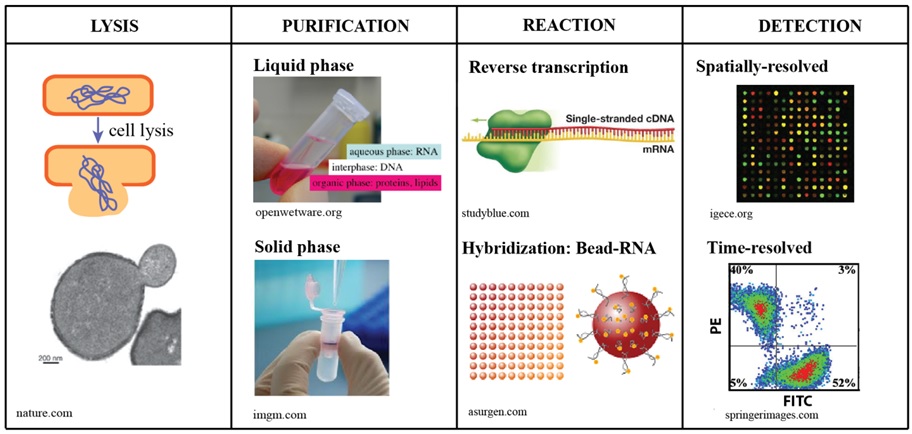 SPEAKER BIO:
Anita Rogacs received her M.S. and Ph.D in Mechanical Engineering from Stanford University. Her research involved the study and development of novel microfluidic devices for automated sample preparation and analysis of nucleic acids. There, she worked with Prof. Juan Santiago and was supported by an NSF Graduate Fellowship and a Sandia National Laboratories Research Fellowship. In 2014, she joined HP Laboratories, where she continues her work on microfluidic-based sample preparation and analysis of various target analytes.
This event is graciously hosted by StudioRED**
115 Independence Dr, Menlo park, CA 94025
Dinner will be provided.
For any questions, please contact: asme.scvs (at) gmail.com.

PROGRAM (all times US Pacific):
6:00 PM ~ 6:30 PM: Registration, Networking, and Dinner

6:30 PM ~ 7:15 PM: Technical Talk

7:15 PM ~ 7:30 PM: Q&A and Networking

7:30 PM: Event ends



---
* Each engineer must determine whether this seminar meets the Board's requirements. PDH will be awarded if requested at the end of event. 1.0 PDH will be awarded for attending the entire seminar including Q&A session.
**From our host: StudioRED services encompass engineering and the conceptualizing, specifying, designing, prototyping, verification and validation as well as ramping up of a product successfully into manufacturing. With our engineering knowledge and experience, SMP will help you avoid the pitfalls that often derail engineering projects.
---
Thank you to all the sponsors of the ASME Silicon Valley Section for making events such as these possible

When & Where

StudioRed
115 Independence Dr
Menlo park, CA 94025


Thursday, May 29, 2014 from 6:00 PM to 7:30 PM (PDT)
Add to my calendar
Organizer
ASME Santa Clara Valley Section
One of the nation's top-ranked sections, ASME SCVS is operated by a group of dedicated volunteers, to meet the needs of the Silicon Valley engineering community and beyond.
Microfluidic Techniques for Lysing, Purification and Bead-based Detection of Nucleic Acids from Complex Samples