Microcirculation Therapy Info Session: Have a Healthier Autumn
Complimentary Info Session and Demonstration by Microcirculation Center, LLC
About this event
You're invited! Sept 16th at 5:30 pm
Learn How to Enhance:
Nutrient and Oxygen Delivery
Local Blood Flow
Waste Removal
Muscle Conditioning
Performance
Physical Fitness
Muscular Strength
Endurance and Energy
Vitality and Well-Being
Stress Reduction and Relaxation
Sleep Management
Did you know capillaries are incredibly tiny in diameter, about a tenth of the diameter of a human hair?! Despite their small size, these blood vessels play an important role in circulation, and are responsible for the exchange of nutrients and waste in our tissue cells.
Discover this cutting edge technology from Germany that increases blood flow and oxygen by 30% in just one session.
Learn more about Bemer Technology and benefits of microcirculation therapy:
https://wellcomeomcenter.com/bemer-therapy-microcirculation/
_____________________________
4242 Lake in the Woods Drive, Spring Hill, FL 34607
www.wellcomeomcenter.com
352-600-4242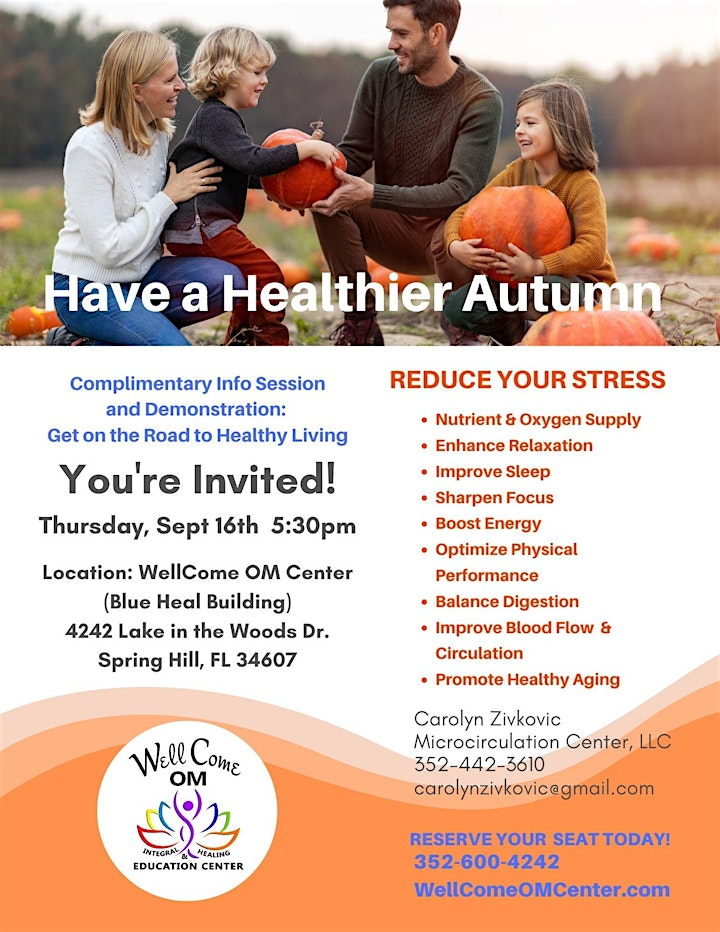 Organizer of Microcirculation Therapy Info Session: Have a Healthier Autumn
The Wellcome OM Center consists of three buildings nestled on six acres of land among beautiful gardens, pathways, and natural habitat to promote an eco-friendl
y and sustainable environment.

Dr. Maria Scunziano- Singh is on a mission to embrace and educate fellow humans individually and collectively in harmony for the attainment and sustenance of health, peace, and fulfillment in life by providing instruction and guidance on how to achieve successful outcomes in all aspects of living.

This center is created to help all who come, especially young women and men (young in heart and mind), enhance their minds and bodies for all current and future endeavors!