Description
Learn tips and tricks for designing with sensors, IoT application development, and advanced Arduino® design techniques at the Microchip Technology GET LAUNCHED event!
General event admissions is FREE! Hands-on technical workshops cost anywhere from $0 to $25 with cutting-edge topics in rapid hardware design and development.
Hands-On Workshops:
Hands-On with PlatformIO: Embedded Development for Professional Makers - FREE
Instructor: Kathy Giori, PlatformIO Senior Advisor

Take Arduino development to a professional level. Learn a new interface for developing with any Arduino based hardware, minimizing the setup and learning curve associated with many SDKs. This workshop will give you an opportunity to get your hands on PlatformIO, a modern software development tool with a sophisticated back-end build system that makes your job as an embedded developer much easier.
Hardware will be provided for demo purposes during the class.
Rapid Prototyping with Breadware - $10
Instructor: Outhone Boukhoune, Breadware Director of Engineering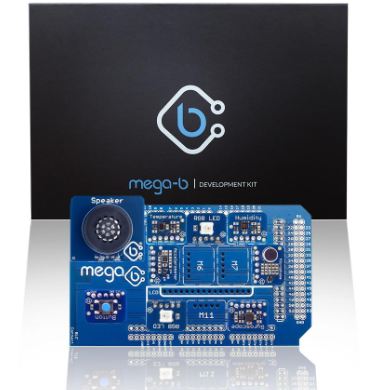 Breadware will then show you how to take a proof of concept with their Mega-B hardware into a Minimally Viable Product [MVP]. Learn how to connect the Mega-B to the cloud, setup mobile applications and data analytics.
Following your hands-on experience with the Mega-B hardware take it home for only $98 (a 50% discount)!
Effortless Design Workshops: Advanced Arduino® Debugging - $25
Instructor: Bob Martin, Sr. Staff Apps Engineer – "The Wizard of Make"

Have you ever wanted to move your Arduino® Sketches into a professional development environment with full debug capabilities?

This session will introduce you to the Arduino Sketch import capability in Atmel Studio 7, which allows for full source code debugging. You will receive the ATmega328P Xplained Mini and the JTAGICE3 debugger which provides everything needed to implement source level debugging on Arduino projects.
Take the hardware home after the workshop!


Effortless Design Workshops: Prototyping with Sensors
- $25
Instructor: Mamun Ahmed,

Embedded Solution Expert

This hands-on training session will walk you through how to develop an embedded sensor node prototype which captures heart rate data. You will speed through configuration of the PIC microcontroller and pulse oximeter device by using MPLAB Code Configurator (MCC), a graphical programming interface. This tool will generate libraries with simple APIs so you can spend time working on your solution instead of messing with registers or communication protocols.
You don't need to install any tools on your computer, as this entire workshop will use the cloud based MPLAB® Xpress IDE. You also won't need any soldering or wire-wrap skills, the sensor used comes on a MikroElektronika click board™ , which fits quickly and securely into the mikroBUS™ socket on the MPLAB® Xpress Evaluation. The sensor data will be graphed on your personal computer via an on-board USB-to-serial adapter
It is simple to expand on the ideas talked about in this workshop, and limited only by your imagination. You will be shown how to move the solution to a wireless communication method using the same tools, transforming from a simple wired sensor to an IoT or wearable solution.
Take the hardware home after the workshop!


Get your Tickets Today!