Description
INTESIVE MICROBLADING COURSE
First what is classical microblading?
Microblading eyebrow treatment is a relatively new method that offers the freedom of modelling and creating perfect brows. This method can be used in any situation, whether it is a health condition (alopecia, chemotherapy), permanent eyebrow damage due to many years of plucking, if you are not happy with the shape of your eyebrows, you desire thicker and fuller brows, you want to refresh your look, or if you simply desire perfect eyebrows.

RichBrows teaches the method of natural looking hair strokes technique which is specially adapted to European standards of beauty. Also students can learn Asian and USA style, and have a overview of new TREND ALERT OMBRE & SHADING MANUAL METHOD EYEBROWS.

This course is designed for beginners, people that have no knowledge or experience in permanent make up. The courses will contain all the knowledge that you'll need to know about how to perform microblading brows.
Microblading eyebrow treatment is a relatively new, but very "hot" method these days that offers the freedom of modelling and creating perfect brows. This is way of semi-permanent make-up, where through the manual process of inserting pigment into the upper layers of skin, we create the desired fullness and shape of the eyebrows. Our Microblading Fundamentals course teaches you 3 basic hair stroke patterns. We teach you how to identify the different pattern in each client. No eyebrow is the same, and no woman should have the same eyebrow as another. Eyebrows are individual and not cut from the same pattern.
Rich Brows trainers and instructors are travelling all over the world to share their knowledge with others and giving them an opportunity to learn from the best. RichBrows microblading course is an Art of Microblading. Create definition and fullness. Spread your love for Brows. This is a student certification course with all trainees and their work being closely supervised by our award winning instructors.

Take a look at the earning potential with offering Microblading procedures in your salon:During the course, student will learn: how to form ideal shape and eyebrow symmetry, what are skin problems, color reflection, different post-treatment flows which very depending of skin type, factors which affect color and/or color lasting.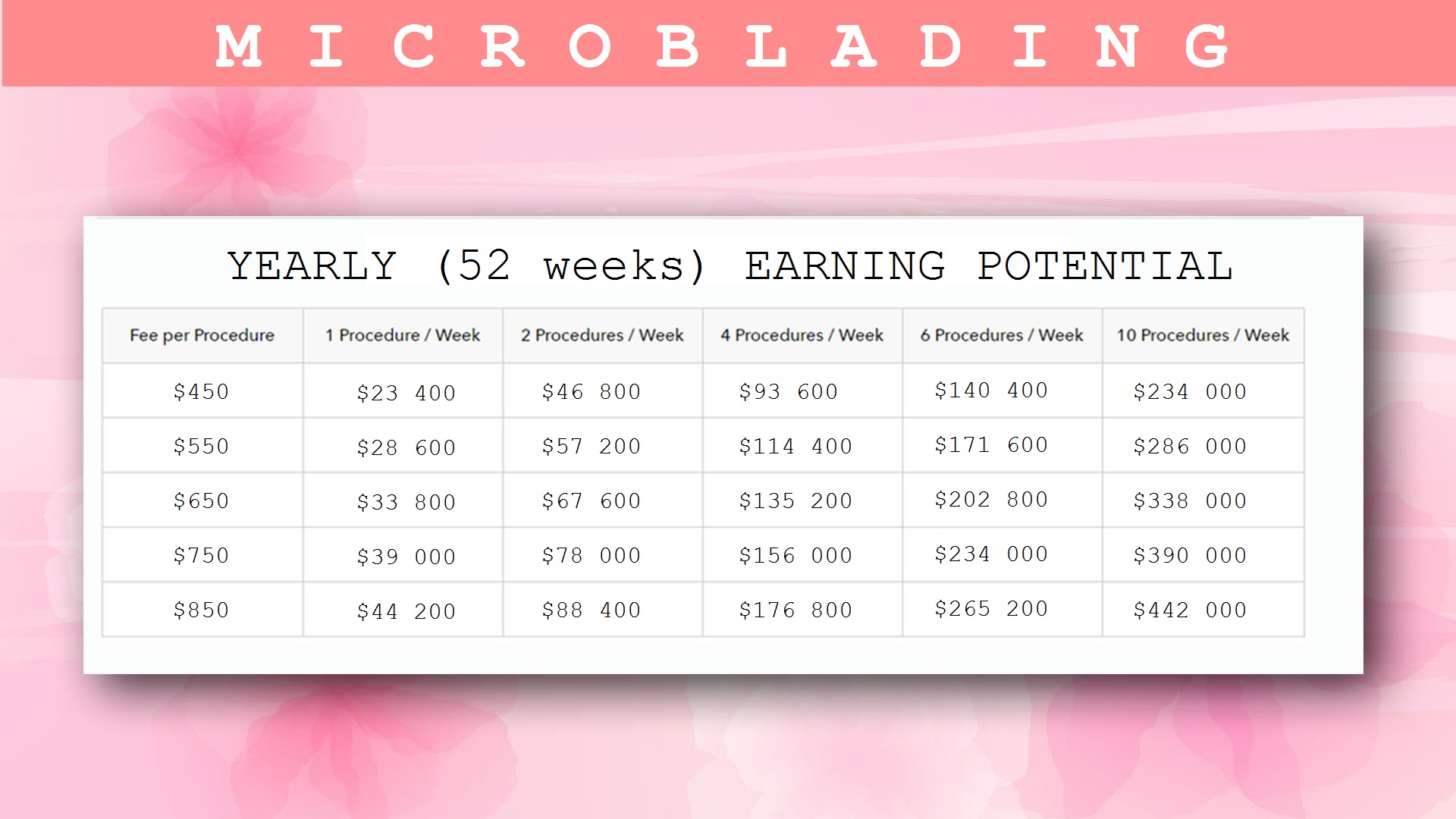 In addition to overall theory Master lectures about business ethics and customisation of relations with clients and colleagues.
Students will receive the professional RichBrows starter kit (800 USD value) with the following : a Golden Ratio compass, holder tool, the new Shading Tool, blades, pigments, anesthetics, pencils for predrawing, leatherette- simulation skins and step-by-step training manual, and more. – everything what is needed to start working and become succesful.
Maybe you don't know where to start. Or maybe you're interested in a general career area and want to explore the training possibilities. Or perhaps you have a specific type of program in mind and simply need to find a beauty school that offers it. Well, don't worry. You're in the right place.
REGISTER NOW, SEATS ARE LIMITED!
*Rich Brows takes pride in offering its students the most innovative beauty trainings in the world. Get certified in Microblading, Lash Lift, 3D Eyebrow Design, Brow Extensions and other popular beauty trends in the world. Start earning big money doing Microblading, Eyelash Lift/extensions, Brows and Makeup. Discover a new and rewarding career. Train with the BEST to become the BEST. Get certified today! Sign up for your class today and become a Certified Master Lash/Brow Specialist!