Description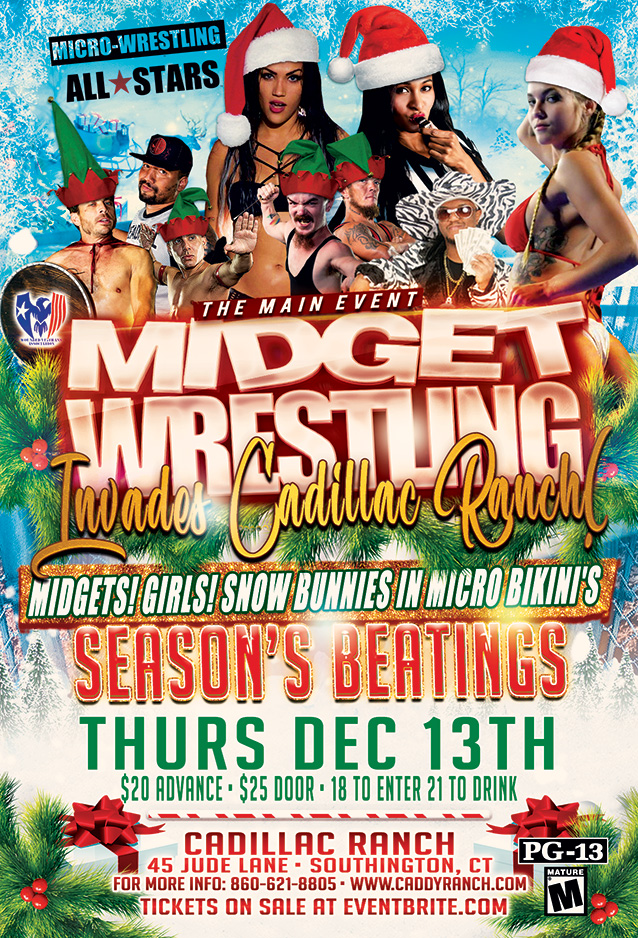 MICRO-WRESTLING ALL*STARS LIVE!
PRESENTS.... Season's Beating's Featuring Midgets! Girls! Snow Bunnie's In Micro Bikini's And Wrestling!
SH*TS ABOUT TO GET REAL!
Candy Canes! Egg Nog! Elves! And Micro Brawlers!
The Wildest!, Craziest! Micro-Wrestling Event Of All Time!
Too Raw For Monday Night RAW! Too Much Smackdown For Tuesday Night SMACKDOWN!
Fun, Colorfull! And the World's Most Dangerous Little People Battle It Out For Dishonor! Glory! And The Bragging Rights And Bar Tabs!
Add In Some Snow Bunnie's In Micro Bikini's, Some Holiday Cheer And It's The Holiday Party Of The Season Micro Style!
Great For Holiday Parties! Birthday Parties! Special Occassions! Or Just A Darn Good Time!
Fans and Spectators Are Encouraged To Bring Wrapped Household Items, Toys and Gifts For The Micro-Fighters To Use On Each Other During Battle!
SPECIAL GUEST APPEARANCES BY THE MICRO-WRESTLING ALL*STAR FRIENDS
Guest Host Emcee "The Quintessential Studmuffin JOEL GERTNER ECW ORIGINAL ICON
Guest Wrestling In Micro-Bikini By Snow Bunny Playmate "ROSE From MTV's Catfsih Show!
Listen On Country 92.5 FM And 104.1 FM For More Info
*Card Always Subject To Change
(Talent,Performers Participants Subject To Travel, Illness, And Or Injury, Time Of The Month And Other Variables, Substitution And Replacement Always Exists)
18 To View 21 To Drink!
*Micro Aggressions Are Not Sanctioned Nor Supervised
Group Sales And Large Parties Call 203.589.9700