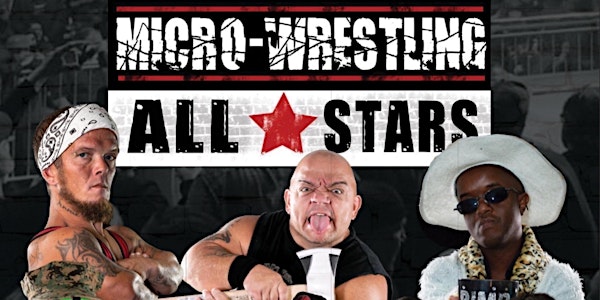 MICRO-WRESTLING ALL*STARS INVADE TERRELL, TX
MICRO-WRESTLING ALL*STARS HARD HITTING MIDGET WRESTLING INVADES TERREL, TX FOR ONE NIGHT ONLY!
When and where
Location
Swingin Doors 304 Farm to Market Road 148 Terrell, TX 75160
About this event
FOR IMMEDIATE RELEASE:
Micro-Wrestling All*Stars Invade TERRELL, TX!
Is Pleased to Announce...
"Micro Aggression"
MIDGETS! MIDGETS! & WRESTLING!
Thursday, October 13th, 2022,
8:00PM Bell Time
Doors 6:00PM
VIP 5:30 PM
It's Lewd! Crude! And Politically Incorrect! And it' s Micro-Wrestling All Star's "Micro Aggression"! And It Invades Terrell, TX For One Night Only!
It's An Action Packed All*Star Line-Up of Over the Top, Politically Incorrect, Anti-Establishment Wrestling and Sports Entertainment!
Action Adventure Meets Audience Integration and Participation!! Midgets! Midgets! And Wrestling!
It's Too Raw for WWE Monday Night RAW, Too Elite for All Elite Wednesday Night's and Too Much Smackdown for WWE Friday Night Smackdown!
Micro-Wrestling All*Stars Will Surely Take You to The Extreme!
"It's Huge! It's Epic!" It's No Small Event! And It's Brought to You by SWINGIN DOORS, and Micro-Wrestling All*Stars!
For More Info Group and VIP Sales Contact Micro-Wrestling All*Stars 813.468.2197 or dknyc10@gmail.com
SWINGIN DOORS
304 FM 148,
TERRELL, TX 75160
972.210.7211
Produced And Presented by Micro-Wrestling All*Stars, And A Fun Event for All!
TICKETS AVAILABLE at EVENTBRITE.COM
CARD OFFCIAL UNOFFICIAL
TEXAS DEATH MATCH! (MICRO RULES)
LAST MICRO STANDING MATCH! (MUST BE A WINNER)
TERRELL TX WHISKEY ROOM BAR FIGHT! (FISTS FLYING, DRINKS THROWING MAHYEM)
TAG TEAM TEXAS TORNADO RULES!
BATTLE ROYALE RUMBLE! (EVERY MICRO FOR HIMSELF/HERSELF)
21 AND OVER
*CARD AND MICROS ALWAYS SUBJECT TO CHANGE!
-End of Release