| | |
| --- | --- |
| | |
Event Details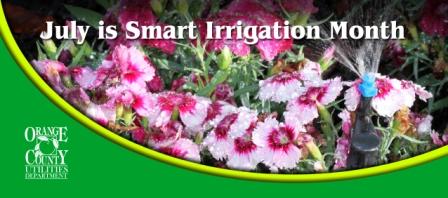 Save Water and Money!  Help conserve Florida's natural resources
Interested in making your irrigation system more efficient to save water and money?  Retrofitting your current system to increase efficiency is easier than it sounds.  In this interactive class, irrigation professionals will teach homeowners the step-by-step process of converting portions of your irrigation system to micro-irrigation for a more efficient watering machine. 
Participants will learn about how to manage their current system, become familiar with irrigation equipment, designing the system, assessing water needs, and installation.  A hands-on practical component will get attendees familiar with the parts and how to install them in the home setting.
Orange County residents are welcome to attend one of three workshops to learn how to adapt their current irrigation system to new micro-irrigation technologies.  Participants will also have the opportunity to purchase a micro-irrigation starter kit for the reduced price of $19.00 while attending this class for free.  Since this is starter kits, and you won't need more than one on an irrigation system.
IMPORTANT INFORMATION:
The micro-irrigation starter kits are a special order by arrangement with Mister Landscaper.  All kits must be ordered no later than one week prior the micro-irrigation workshop that you register to attend.  The kits will be available for pickup ONLY at the workshop and are only available to Orange County residents who register for a micro-irrigation workshop.
Orange County Government is not responsible for any detects, missing parts, malfunctions, etc. associated with the micro-irrigation starter kit.
Organizer
Orange County Extension UF/IFAS and Orange County Utilities