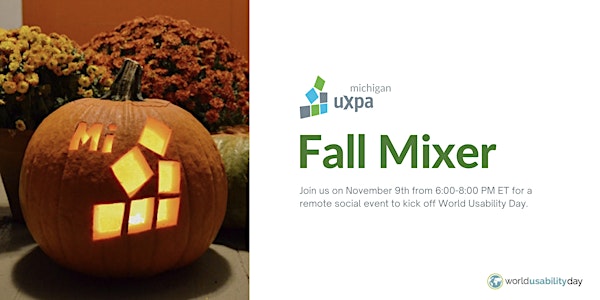 Michigan UX Community Fall Mixer
Join us for a fun Fall-themed virtual party to connect with Michigan User Experience colleagues and help kick off World Usability Day.
About this event
Michigan UXPA invites experienced UX professionals, current UX practitioners, students, and anyone interested in UX to attend the Michigan User Experience Community Second Annual Fall Mixer on Wednesday, November 9th, from 6-8 pm ET.
Michigan has hosted a local World Usability Day event for 18 consecutive years. Although we can't meet in person this year, we'd love to have you join us online instead.
Grab your favorite Fall-themed beverage, open Chrome, set up your computer camera/mic, and join us on the Wonder platform (it works best to use Chrome on a computer) to reconnect with colleagues and meet new people. Pop in for just a few minutes to say hello, or settle in for the whole 2 hours.
Attendance is FREE, but registration is required here on Eventbrite. Registrants will get email reminders prior to the event with technical details and the link to our virtual party space on Wonder.
Who we hope joins us:
UX professionals in Michigan, to connect with colleagues you have not seen in person in a while
Students in Michigan, to meet professionals and start your UX career journey
Anyone from around the world who wants to hang out with UX professionals and students from Michigan
By registering, you agree to our Code of Conduct. We hope to create an environment in which diverse individuals can interact in a positive and affirming way, such as being respectful of differing viewpoints and experiences. We will not tolerate harassment of any kind, such as offensive comments, sustained disruption of discussion, or threats of violence.