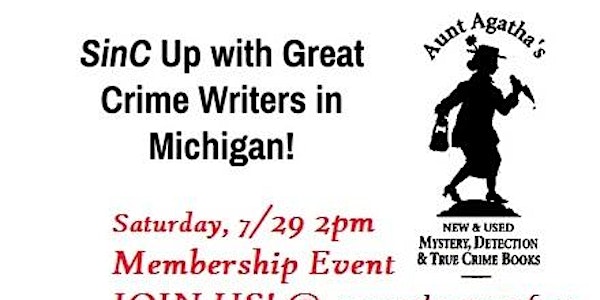 Michigan Sisters In Crime Membership Event
When and where
Location
212 South 4th Street Across street from Aunt Agatha Ann Arbor, MI 48104
Description
SAVE THE DATE
Meet-and-greet other mystery/suspense/crime writers at the first Michigan Sisters/Misters in Crime event on July 29, 2:00-4:00, at Aunt Agatha's mystery bookstore in Ann Arbor.
A panel, consisting of a mystery author, an investigator, and a district court judge, will discuss "Bad Guys/Gals."
Open to everyone interested in the genre. Space is limited. Use this opportunity to RSVP now!
Email us at:Michigansinc@gmail.com for more information. Find us on Facebook and Twitter; @MI_SinC.
For more information about our group or joining, please go to:
https://www.facebook.com/MichiganSinC/