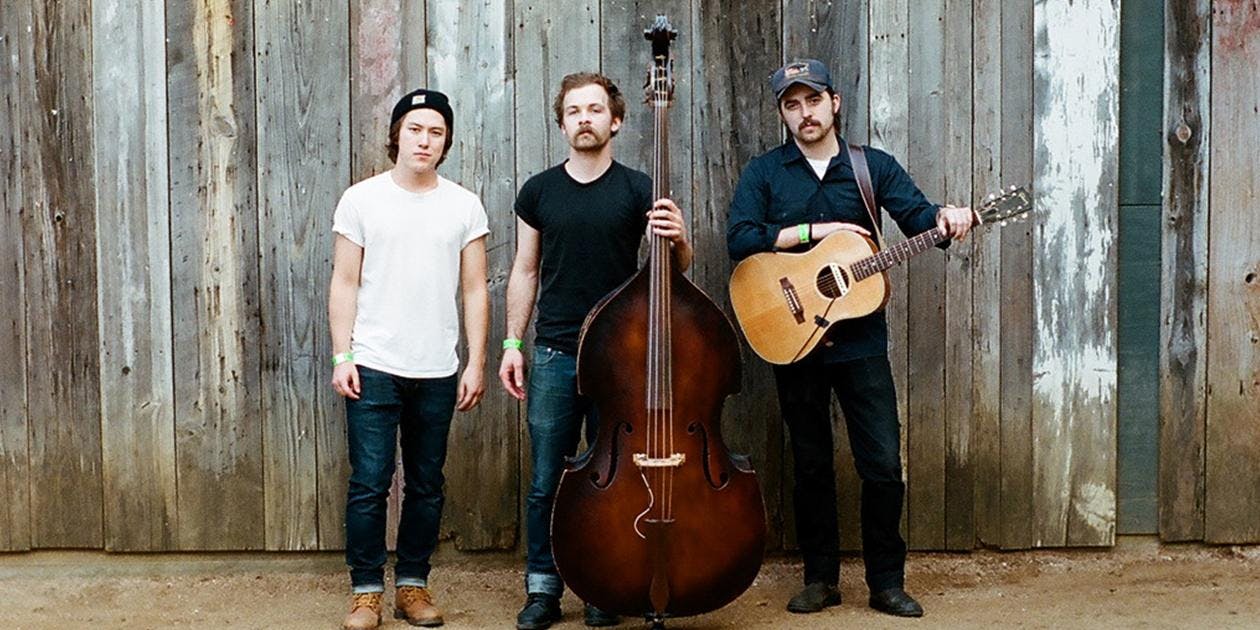 About this Event
Lifelong friends and deep-north natives, Michigan Rattlers play heavy-hearted folk-rock with an aching dose of Midwestern nice. Graham Young (guitar), Adam Reed(upright bass), and Christian Wilder (piano) began writing music and performing together in their Northern Michigan high school.
"Petoskey is a small place. Beautiful, but secluded. It's hard to start a musical career in a place where there are more deer than people."
Still, they regularly played every bar, cafe, and stage in town, developing a musical chemistry informed by the likes of AC/DC, Creedence Clearwater Revival, Bob Seger, and more.
After a few years apart, Reed and Young settled down in Los Angeles, recorded a short demo, and began playing locally. The demo found its way into the hands of super-producer Johnny K (Plain White T's, 3 Doors Down), and they cut the bulk of their first EP at NRG Studios in just one day.
"My favorite music is recorded that way," continues Reed. "You get in a room, plug in, and cut songs live. The energy of the recording comes directly from the physical performance, and it puts the listener into that specific time and place."
This self-titled Michigan Rattlers EP attracted glowing reviews from No Depression, Bluegrass Situation, B3 Science, and Rolling Stone, who named the band one of their "Ten New Country Artists You Need To Know" in 2016. They spent the rest of that year and much of the next touring in support of this release.
In September 2017, Pianist Christian Wilder was added to the band's lineup. Now a trio, the group headed into the studio to record their newest EP, Wasting the Meaning. Comprised of three cover songs, the project was conceived as a way to explore deeper into the recording process and pay homage to some of their favorite songwriters.
Currently, the group is hard at work recording their first full-length release. It is slated for release in the summer of 2018.
Dan Sadin
Los Angeles-based Dan Sadin pairs his tender vocals and raw guitar to strike a chord reminiscent of the music we all grew up on. Though there are hints of Springsteen and Petty, don't call it nostalgia. His songs are an honest exploration of where the music we currently listen to comes from and an original take on where it can go.
The sincerity emanating from his artistry results in a unique musical style seamlessly intertwined in vulnerability. His debut EP is is heavily comprised of first takes and focused productions. Dan explores what it means to be a male in the 21st century, questioning our preconceptions of toxic masculinity in an effort to find balance. "Strength isn't always measured in muscle", says Dan, "Deep down I think I've been conditioned to believe that I have to be strong all of the time, and that men can't be seen as both sensitive and strong in the same context. I think this also speaks to a larger piece missing from today's social culture:  that true vulnerability and emotional awareness is lacking from our masculine vocabulary."
Sadin sees his music as an important and tender reminder to himself that it's okay to explore, connect with, and express his feelings.
His self-titled, debut EP is available everywhere.