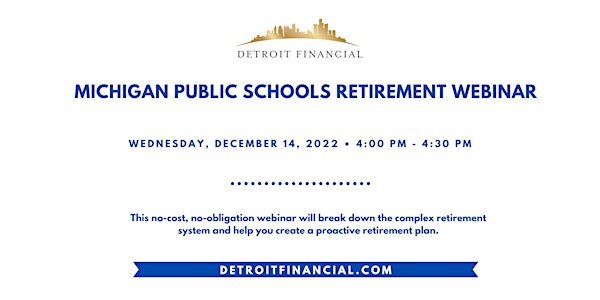 Michigan Public Schools Retirement Webinar - Winter 2022
Helping you to understand the Michigan Public Schools Retirement System and to take proactive steps to maximize your retirement benefits.
About this event
There is no cost and no obligation with the webinar, and we will break down the complex retirement system and help you to create a proactive plan for your retirement.
Together, we will ensure that you understand your retirement benefits, have a retirement plan and that you can confidently answer these important retirement questions…
Common Retirement Questions:
1. How much am I entitled to receive from my Michigan Pension?
2. How soon can I retire?
3. What will my healthcare look like when I retire?
4. How much will I get from Social Security? Is taking Social Security at age 62 right for me (even with penalties up to 30%)?
5. How much income will I receive in retirement? How does this compare to my current standard of living?
6. What are the best investment options for me ? Are my investments ready for a downturn in the market?
7. How much do I need to contribute to maximize the state's match?