Actions and Detail Panel
Michigan Model Boot Camp #3
Sun, December 4, 2016, 8:00 AM – 4:00 PM EST
Description
The next Model Boot Camp is right around the corner and it is a very special one. Our Michigan Model Boot Camps were all a major success. Chicago has housed Model Boot Camp for three years and has since expanded into Michigan, New York, Ireland, and Puerto Rico. Michigan Model Boot Camp #3 (MMBC #3) will be held December 4th, 2016. This MBC is held 9am until 4pm for ages 5 and up. We have several fashion phtographers and featured clothing designers. You can sign up Michigan Boot Camp on this page.

Our Model Boot Camp models have had their incredible photos featured in Revia Magazine, VS Chicago Magazine, Obscurae Magazine, M&M Modeling Magazine, Tiara Magazine, among countless others. Get noticed, stand out, gain experience and exposure! Join Model Boot Camp today.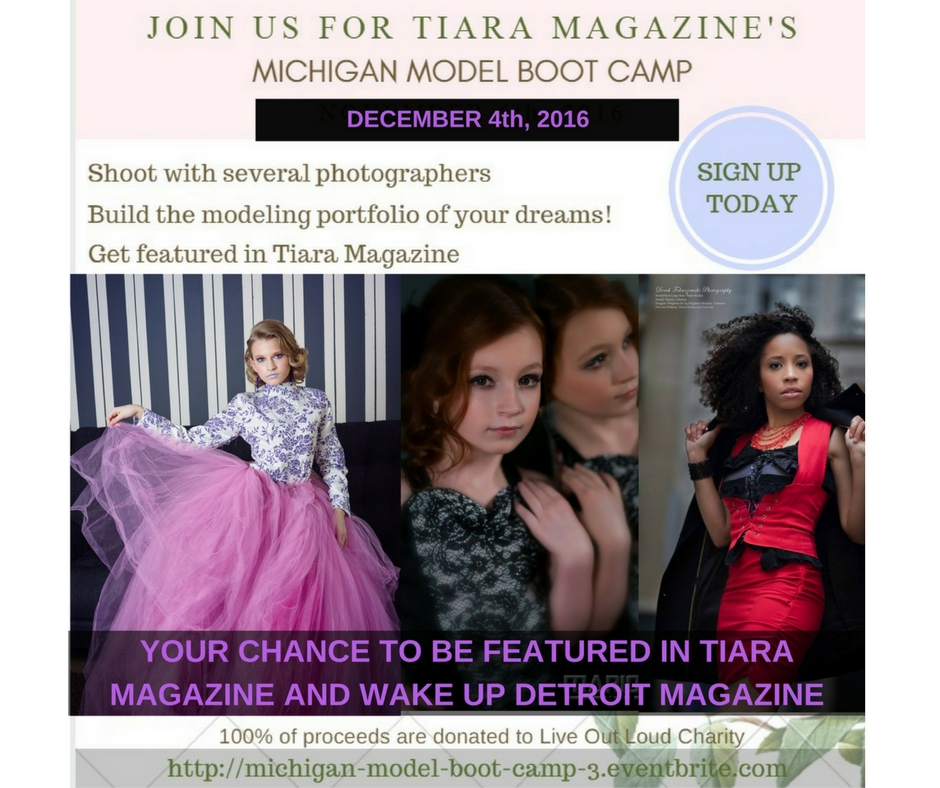 MEET the FOUNDER of Model Boot Camp Meet & learn from the Founder of Model Boot Camp, Sherrie Gearheart. Aside from being called The Queen of Fashion, Sherrie Gearheart is an international runway and print model. During 2015, Gearheart walked in Mercedes Benz New York Fashion Week, LA Fashion Week, Chicago Fashion Week, completed an international World Supermodel Tour in China, hosted NYFW & Paris Fashion Week on Luxe TV, among other modeling accomplishments. Her work as a model and humanitarian has been featured in over fifty publications and she has graced the cover of several magazines. Gearheart is Founder and President of Tiara Magazine a pageantry, fashion, beauty publication read in over 177 countries online and in print. Tiara Magazine was founded in 2009. Sherrie Gearheart is an international beauty queen as the reigning Miss United Nations 2015, a title she won for her humanitarian efforts. Wear our designer wardrobe, shoot with pro photographers, build the portfolio of your dreams, and learn from international model Sherrie Gearheart.
Focus: to give models a platform to work with PRO makeup artists, PRO photographers, PRO experts in the industry, to be featured in magazines, to essentially teach models new skills by industry professionals during our seminar, introduce modeling poses by fashion photographer expert, build portfolios, and work on runway presentation/walk. A chance to be scouted by industry professionals. Work with several fashion photographers. Build the portfolio of your dreams! Each model will be featured in Tiara Magazine. Purpose: a fun, affordable, way to raise funds for Live Out Loud Charity for suicide prevention. A portion of the funds raised will be used for the LOLC 2016/2017 School Media and Educational Tour for suicide intervention, character building, mentoring, and anti-bullying seminars. Support Live Out Loud Charity! Address: Model Boot Camp is held in Lapeer, MI. We give the location once you sign up for safety and security reasons.
Michigan Date(s) Lapeer, MI. December 4th, 2016. Michigan Model Boot Camp #3 Time: 9am-4pm (an all day event, finalized itinerary is sent at least 1 week before the event) Location: Lapeer, MI. Model Boot Camp dedicated to incredible photo images. Registration ends Friday, November 18th, 2016. Special guests: Sherrie Gearheart, International Model and Mikayla Pekala, Miss Worldwide Michigan Ambassador for Live Out Loud Charity and professional model. Hair & Makeup Team Select independent pro hair and makeup artists Photographers & Designers Announced the day of Model Boot Camp To sign up see registration on this page.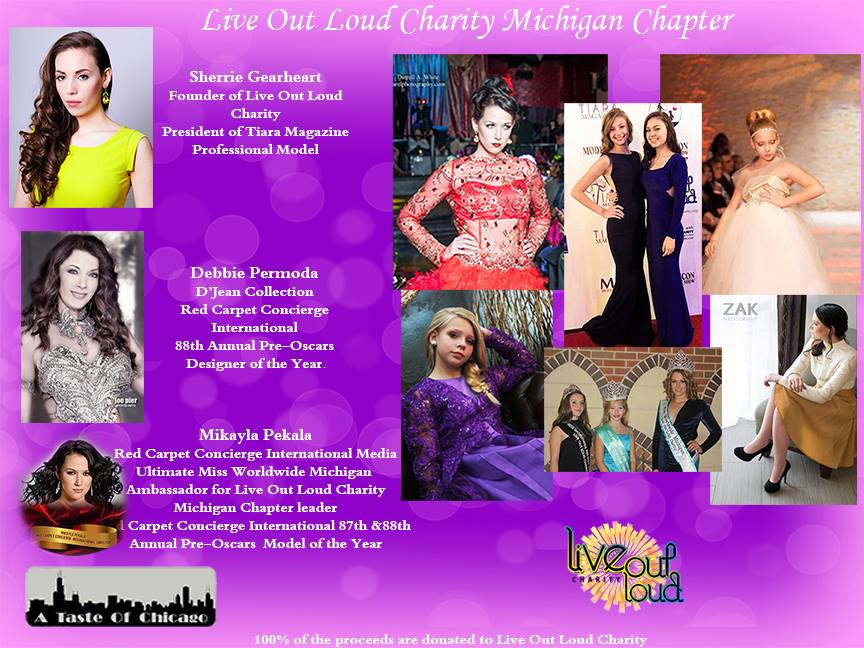 Sign up for Model Boot Camp on this page. Model Boot Camp funds are donated to LOLC (100% of net proceeds donated to Live Out Loud Charity) There are no refunds for any reason. In the event that someone can not attend a Model Boot Camp workshop we simply hold the funds so the paid participant may attend a future MBC workshop within one year. Learn more about Live Out Loud Charity at www.liveoutloudcharity.org