Michigan Legal Summit: Health Information and the Law: What's Next?
Description
The Michigan Health Information Network Shared Services (MiHIN) cordially invites you to join us for "Health Information and the Law: What's Next?" This event focused on legal issues surrounding electronic health information exchange will take place Tuesday, June 5, 2018 from 8:00 AM - 5:00 PM in Lansing, Michigan. This summit will serve as a preliminary event for the tenth annual Connecting Michigan for Health 2018 conference, held June 6-8, also in Lansing.
The one-day summit is designed to facilitate in-depth conversations to strengthen our collective understanding of how various federal and state laws, policies, and regulations impact the electronic exchange of health information.
Experts from around the U.S. will discuss and facilitate conversations around trending, relevant topics including:
The 21st Century Cures Act and the Trusted Exchange Framework and Common Agreement (TEFCA)

Bioethics and electronic health information sharing

Healthcare privacy and electronic consent

Opioids and statewide prescription drug monitoring programs

Remote medicine

Update on fraud and abuse/enforcement issues
This summit will offer valuable insights for individuals from health systems, health plans, and health information exchanges who are familiar with legal and policy issues that pertain to healthcare and health information exchange.
We would also like to invite you to a networking event and closing key note speaker after the summit at 4:30 p.m. the evening of June 5.
If you have any questions regarding this workshop, please contact legalworkshop@mihin.org.
We look forward to seeing you on June 5 in Lansing!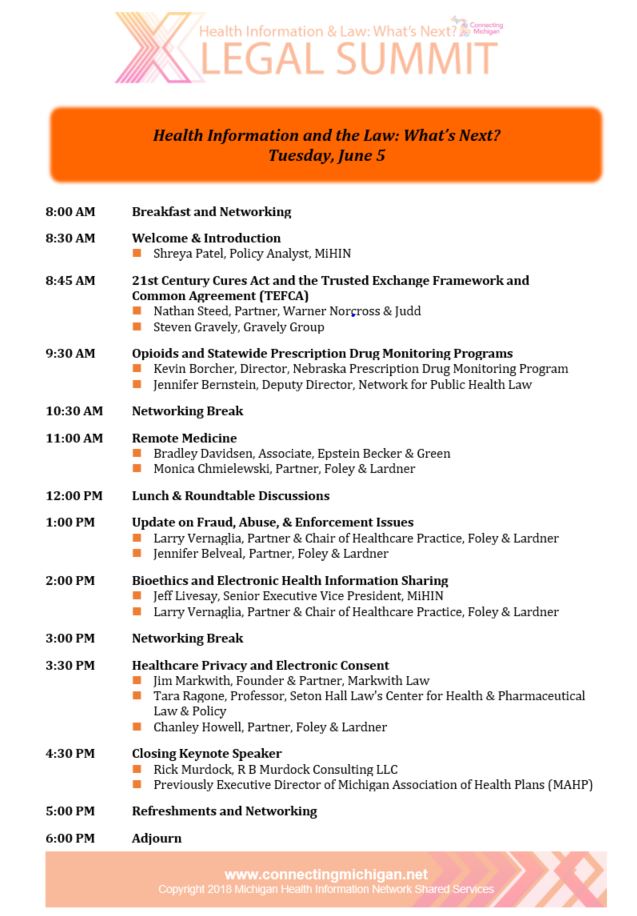 ---------------------------------------------------------------------------
Meeting Location:
The Lansing Center
333 East Michigan Avenue, Lansing, MI 48933
Banquet 1-6
When parking under the Lansing Center, take the elevator or stairs to the first floor. When exiting off the elevator, turn left and the banquet rooms will be on the left. When coming off the stairs, turn immediately and make a sharp right to head past the elevators. Banquet rooms will be on your left.
If you are coming from the Radisson Hotel, take the skywalk from the hotel to the Lansing Center. Upon entering into the Lansing Center turn left and head through the Café. Turn right in the main concourse and the banquet rooms are on your right.