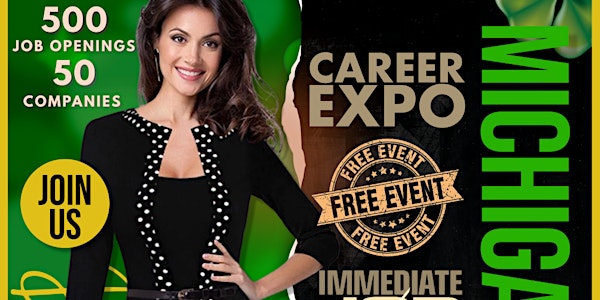 Michigan Job Fair - December 15, 2022
Michigan Job Fair 2022 – Submit your resume for immediate job openings. Visit our website at www.hiredinmichigan.com
When and where
Location
Best Western Premier Executive Residency Detroit Southfield Hotel 26555 Telegraph Road Southfield, MI 48033
About this event
Bring your resume and prepare to interview with 50 employers with immediate job openings.
APPLY IN PERSON - PREPARE FOR ONSITE INTERVIEWS
Thursday, December 15, 2022
9:00 a.m. to 3:00 p.m.
Best Western Premier Hotel
26555 Telegraph Road., Southfield, Michigan
Several career fields are available, including (but not limited to): Entry-Level, Seasonal, Landscaping, Engineering, Information Technology, Skilled Trades, Manufacturing, Blue-collar Labor, Production, Industrial, General Labor, Customer Services, Retail, Management, Restaurant, Accounting, Banking, Office Support, Clerical, Seasonal, Holiday Jobs, Data Entry, Call Center, Installation, Technical, Machining, Electrical, Mortgage, Financial Planning, Insurance, Education, Truck Driving, Real Estate, Nursing, Rehabilitation, Human Services, and other career fields.
Several job openings in Wayne County, Ann Arbor Area, Western Wayne County, Port Huron, Livingston County, Ypsilant, Toledo, Lapeer, Kalamazoo, Flint Area, Lansing, Macomb County, Oakland County and Metro Detroit plan to attend this event.
Recruiters want to interview experienced candidates, people with no experience, military veterans, professionals, executives, college alumni and union workers, individuals with past convictions, youth 16 to 24 years old, older workers, retirees, entry-level candidates
Google will provide a free resume writing workshop and resume critique for candidates seeking help with resume writing.
The Career Expo is "Free" for all job seekers to attend.
Candidates can register for the career expo using their cellphone, laptop, tablet, or computer; visit our website at www.hiredinmichigan.com to complete registration.
Call 248-237-3600 for information.