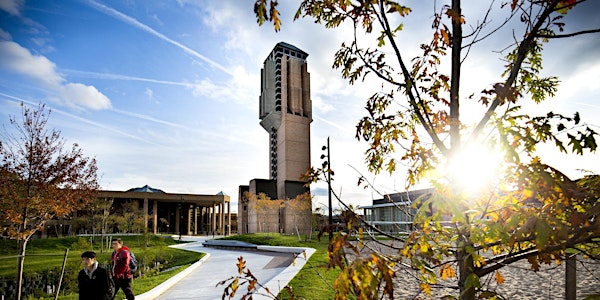 Michigan Engineering North Campus Tour
Join us on a walking tour for an up-close look at North Campus and the Michigan Engineering facilities.
When and where
Location
Ford Robotics Building 2505 Hayward St. Ann Arbor, MI 48109
About this event
1 hour 30 minutes

Mobile eTicket
North Campus, the home of Michigan Engineering, is a hub of creativity — where engineering, art, music and design students co-exist. Join us on a walking tour for an up-close look at North Campus and the Engineering facilities. We can't wait to meet you!
Due to strict tour capacities, registration is required and walk-ins cannot be accommodated. In the event of cancellations or if additional dates become available, the registration page will be updated to accurately reflect tour availability.
Current COVID-19 Restrictions and Policies:
ResponsiBLUE Health Screening
All visitors are required to fill out the University of Michigan ResponsiBLUE Health Screening before coming to campus. You will be asked to show the result of your screening at tour check-in.
To fill out the screening:
1. Go to healthscreen.umich.edu
2. Select "Use Guest Screening"
3. Complete the screening check
4. Have the final result ready on your phone during tour check-in. You may also be asked to show the result at other locations during your time on campus.
Please see U-M Face Covering Policy for COVID-19 for more details.
You can find a complete list of frequently asked questions regarding the University of Michigan's COVID-19 policies here: Campus Blueprint FAQ
*Failure to comply with University COVID-19 policies may prevent guests from being able to attend the tour.
Parking and Transportation Tips
By Car
Visitor parking on North Campus is limited. Payment booths accept both cash and card. We recommend you park in the metered visitor parking spaces across the street from the Ford Robotics Building - lot NC26. The full address of this lot is:
2500 Hayward Street
Ann Arbor, MI 48109
Please review alternative parking options, as this lot may become full.
All visitor parking spaces will be marked with numbered yellow signs. Please make sure that you do not park in the "Blue Permit" or "Business" parking spaces, which are reserved for staff and require a permit. Parking in a permit-only spot will result in a parking ticket of $75. An example of the visitor parking sign is included below.
By University Bus (Free)
University of Michigan buses are the easiest way to get around campus! There is no cost - Simply hop on and ride.
Many visitors prefer to park in a parking structure on Central Campus and hop on a blue Michigan bus to ride up to North Campus. It's only about two miles, and the bus ride can take up to 20 minutes during peak traffic times.
Campus Connector is the suggested route from Central Campus, which stops at Pierpont Commons. From there, both the Bursley-Baits and Northwood routes will take you to the Ford Robotics Building.
You can also track Michigan buses in real time using Magic Bus.
If you have any questions about North Campus Engineering Tours, please call (734) 647-7101 or email enginrta@umich.edu to speak with an Engineering Recruitment & Admissions staff member.