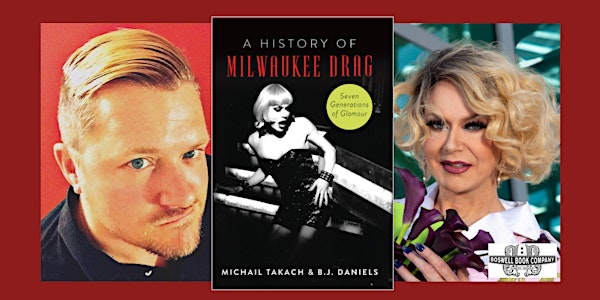 Michail Takach and BJ Daniels for A HISTORY OF MILWAUKEE DRAG
Michail Takach and BJ Daniels for A HISTORY OF MILWAUKEE DRAG - an in-person Boswell event
When and where
Location
Boswell Book Company 2559 North Downer Avenue Milwaukee, WI 53211
About this event
Boswell Book Company hosts an evening with Michail Takach and BJ Daniels, authors of A History of Milwaukee Drag: Seven Generations of Glamour.
For over a century, drag has been an unstoppable force in Milwaukee nightlife. On June 7, 1884, The Only Leon brought the fine art of female impersonation to the Grand Opera Hall, launching a proud local legacy that continues today at This Is It, La Cage, Hamburger Mary's, D.I.X. and innumerable other venues.
Historians Michail Takach and BJ Daniels recognize that today's LGBTQ liberties were born from the strength, resilience, and resistance of yesterday's gender non-conforming pioneers. This is a long overdue celebration of those stories, including high-rolling hustler of the Fourth Ward Badlands Frank Blunt, over-the-top dinner theater drag superstar of the 1950s Adrian Ames, and It Kid Jamie Gays, first-ever Miss Gay Milwaukee and Latin community hero. And many, many more.
B.J. Daniels was always looking for outlets to use their talent for art, theater and costuming. Doing drag led to hair and makeup work for film and video, teaching hairdressing, fashion assignments for regional magazines, and covering Fashion Week in New York City for many years. Daniels still works behind the chair and lens, and still performs in drag here and there as time and energy allows.
Michail Takach is a historian, author, reporter and communications professional living in Los Angeles. He earned his master's degree in communications and history at the University of Wisconsin. As the curator of the Wisconsin LGBTQ History Project, Takach produces ongoing articles, documentaries, and podcasts about local history.
Click here to order your copy of A History of Milwaukee Drag. Signed copies and personalization available on pre-orders. Please note that signed copies will not be shipped until after the event.