Certified Agile Leadership Training (CAL 1)
High-Performance: Redefined
Michael Sahota's CAL1 experience is an intense 2 days of deep exploration into leadership, organizational growth and the connection of culture and high performance organizations. During this experience, participants will undergo a process of letting go of existing behaviours that block their abilities to be an effective leader. They will explore models of culture and receive a playbook to guide the next steps on their journey of creating high performance organizations.
Overcome Top Challenges with Agile
In Michael Sahota's unique CAL1 Experience, you will learn how to overcome challenges that people experience when introducing Agile into organizations:
Agile Mindset Challenged or Lacking
Leadership Behaviour
Organizational Culture
Lot's of "Doing Agile", not "Being Agile"
Here is what people have to say about it:
Praise from Executives and Managers
"Game Changing, Awesomely Enlightening & Fun." I gained insight on the importance of listening and self-awareness about my own personal triggers. I enjoyed Michael's authentic style of delivery. – S. Mann, Senior Manager of Technology Delivery
"Prepare to have your mind blown. This is unlike anything you will have experienced before. Get out of the matrix!" – K. Ali, Agile Development Manager
"Enlightening, Powerful, Life Changing. I see I am not alone and it's OK to ask for help. I liked that the class was straight forward, amusing, and thought-provoking." – C. Tan, Agile Program Manager
"Thought-Provoking, Refreshing, Broadening. There is an acknowledgment and desire among the agile practitioner community that something is broken and this is one step to fixing it. Michael has great energy and the delivery was very inclusive. – S. Ahmed, Head of Digital Products & Operations, Bupa
"Dynamic, Insightful & Practical. During this training the most valuable insight gained, was to get out of my own way." – R. Ellerman, CEO
"Intense, Challenging, Growth Building. The value of leadership is the key to culture, agile and many other successes. Listening is the most valuable tool for a leader." – M. Mullins, Head of Communications, Technology & Operations
"Powerfully awakening and inspirational for my personal journey. I learned to listen to the system, to let it go, and that it's all about heart, body and soul." – D. Whelan, Agile COE Lead
"Inspirational, Holistic, Honest. I learned that 'Agile' is not the goal. Any good that I might aspire to do in others must be fully internalized and true in me first. I like the group discussion and decision-making. Michael showed a great level of respect for the whole person." – R El.ledge, Work Stream Lead, IT PMO
"The best leadership and growth activity, I've done in 25 years!" – A. Heath, Delivery Manager


Praise from Agile Coaches and Scrum Masters
"Inspiring, Provocative, Challenging. Michael explained the role we all have and it starts with you. Be the inspirational leader and be the model of the desired culture shift. I liked how the delivery was a mix of exercises, lectures, drawing, and conversation. I feel I connected with the content." – M. Fagan, Agile Coach
"Exhilarating, Soul Searching, Addictive. I now understand that I need to gain insight on my own leadership journey first." – L. Fowler, Scrum Master
"Consciousness Expanding, Unexpected, Positively Different. There was a whole other dimension of leadership that I was not aware of, but that makes all the difference. The delivery was done with love, compassion, with a wonderful attitude and environment." – T. Gruber, Scaled Agile Coach
"Inspiring, Beautiful, Empowering. I now see the importance of going beyond Agile and clarifying leadership's desire for transformation. I now have patterns for experimenting with. The energy and charisma engaged me." – J. D'Jelal, Organizational Coach
"Enlightening, Engaging, Empowering. I discovered valuable ways of approaching leadership, and transformation through patterns. This subject holistically has opened up my mind to the possibilities of what I can achieve with organizations." – A. Ahmed, Scrum Master
"Scintillating, Frame-shifting, Upleveling. I learned to be humble about what progress can be made and my role in it. Extraordinary sequencing, pacing and energy." – M. de la Maza, Certified Enterprise Coach (CEC)
"Welcoming, Caring, Not pushing. I gained valuable insights on safety, growth and culture. I like that Michael uses polls to see the voice of the system and the drawings to discuss concepts." – Z. Sochova, Agile Coach & Certified Scrum Trainer (CST)
"Impactful, Engaging, Relevant. I gained valuable insights around frameworks & tools for dialogue and my attachment to Agile as an end. I now know how better to see and bring awareness of reality." – A. Mersino, (Agile+) Coach
"Illuminating, Challenging, Inspiring. I gained insight on getting better at how I turn up. I understand I need to use the playbook and be the change I want to see. Drop agile – listen to the system." – T. Haayema, Senior Agile Coach
A Unique Learning Environment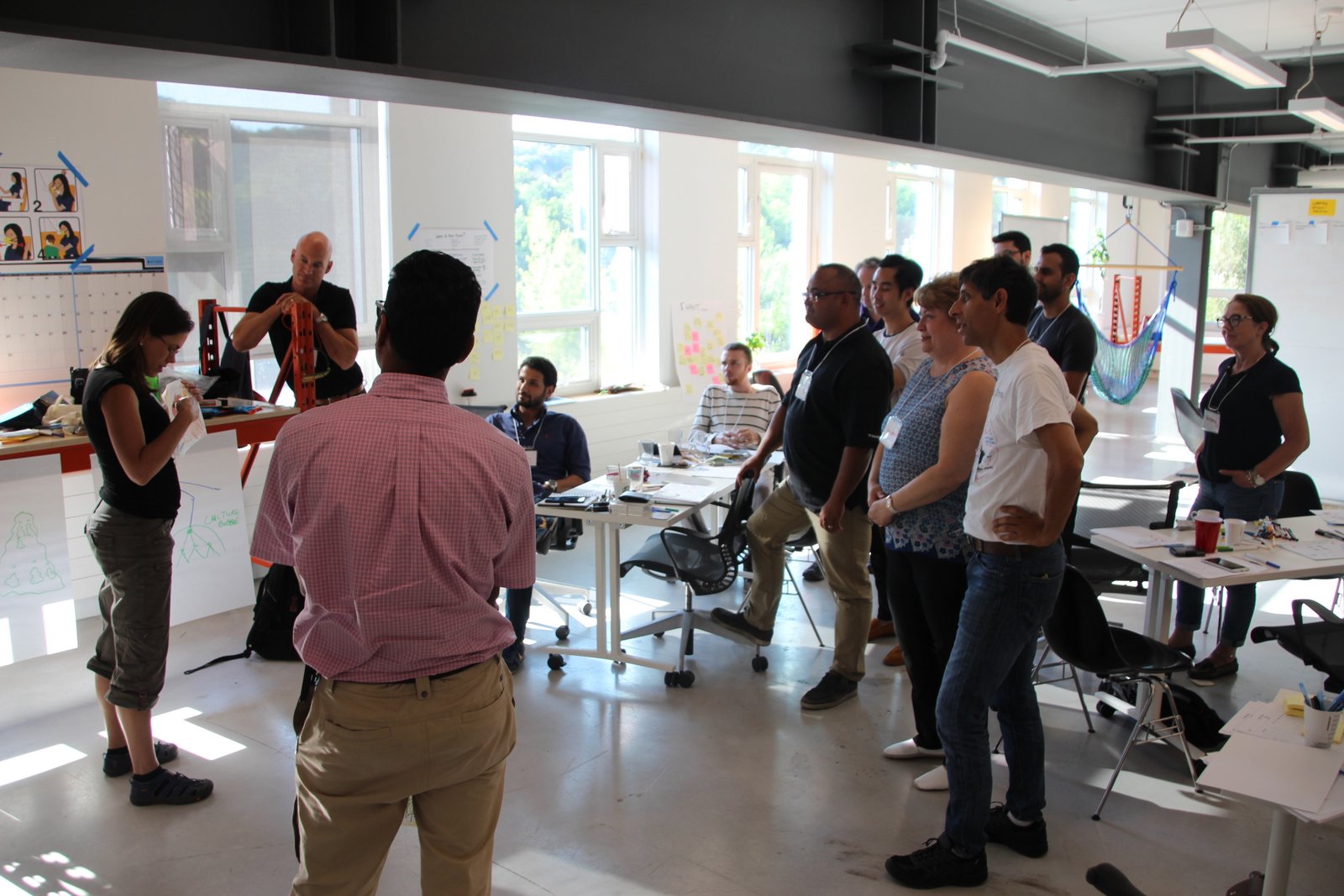 Public Courses & Registration


Private CAL1 Training
I offer private CAL1 training for your extended leadership team. Please contact me for pricing and availability.


Logistics
Pre-requisites: You are expected to have basic knowledge of Agile. This may have come to you through industry experience, reading, meetups or formal training. This course is designed for anyone seeking to foster a more "agile" high-performance organization. It is accessible and essential for leaders in innovation, lean, human resources, etc. – not just Agile.
Course Pre-learning: Participants are expected to complete 2 hours of videos and readings in advance of the training. Then there is more time to focus on discussion and exploration. The reading guide will be shared with participants after registration.
Certification Requirement & Schedule:
As part of the tuition, you will receive the Certified Agile Leader 1 (CAL1) certification from the Scrum Alliance.
As there is no test, the only requirement for certification is your full participation in the class. This means that you will need to schedule any travel so it does not conflict with scheduled class time. Late arrivals and early departures are not advised as it will interfere with creating a safe learning environment for others and will make certification discretionary.
SEUs/PDUs: This training provides 14 SEUs in support of the Certified Scrum Practitioner (CSP) and 14 PDUs in support of certifications offered by the Project Management Institute, including the PMI­ACP as well as the PMP certification.


What's Surprising and Delighting Participants?
The 2 days are more than a training. It's an experience. It's about letting go of our assumptions that are blocking our success.
See what other participants give as to you as advice to get the most out of this unique experience for fostering high-performance.




About Michael Sahota
I work with leaders to deliver high performance organizations. I have invented a break-through model that helps organizations get the full benefits of Agile. By taking a step back from Agile to look at the cultural and leadership context, it becomes easy to avoid the typical Agile pitfalls.
I consult and teach worldwide. Through my highly accoladed Certified Agile Leadership (CAL1) Training I help develop leaders.
Since 2001, I have been fostering an Agile way of working. In 2012, I published the ground-breaking book "An Agile Adoption and Transformation Survival Guide: Working with Organizational Culture". As a Certified Enterprise Coach (CEC) and Certified Agile Leadership (CAL) Educator, I help leaders get high-performance.
FAQ
Q: What is the difference between SAFe and CAL1?
A: On the surface, the goals of SAFe and CAL1 are similar: An Agile Organization.
SAFe has an excellent focus on Tactical elements of Agile such as the process, roles, multi-team releases. It is a wonderful way to adopt Agile practices in a large organization. One might say the focus is on Doing Agile. The focus here is on what may we do to improve things with as little organizational change as possible.
The focus of my CAL1 is Cultural with an outlook towards Being Agile. How may we foster and Agile mindset to create a nimble flexible organization powered by engaged, innovative people? For this we look at topics such as leadership, org structure, culture, and organizational growth. The focus here is long-term sustainable growth from a holistic integrated perspective.
Q: What is the requirement for CAL1 certification?
A: Attending the full class is sufficient. There is no exam.
Q: Do all CAL1 trainings cover the same content?
A: Yes and No. All CAL1 trainings cover the same set of high-level learning objectives. But, each training is as unique as the instructor. Each CAL1 reflects the unique leadership and organizational development journey of the instructor.