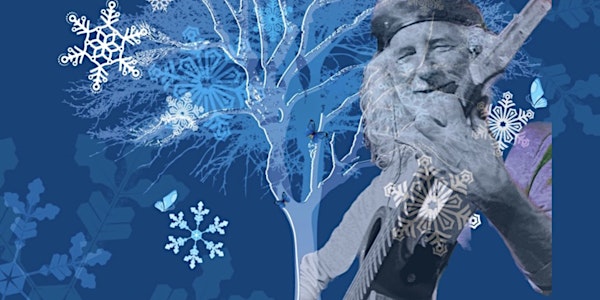 Michael Monroe Presents: Wintersong
In the Dunsmore Jazz Room with enchanting lakeside views.
When and where
Location
The Dunsmore Jazz Room 6161 Hwy 65 NE Minneapolis, MN 55432
About this event
Dinner and drinks service starts 1 hour before showtimes.
Wintersong
Celebrate winter with Minnesota Acoustic Music Master (Star Tribune,) Michael Monroe, presenting a collection of acoustic vocal/instrumental music inspired by the beauty of the season. Featuring: Wintersong, Light of Love, Here Comes The Sun, and Joni Mitchell's River.
Michael Monroe blends rich vocals, guitar, bamboo and glass flutes--a unique creation of music which leaves his audiences mesmerized. Combining musical styles of acoustic folk and reggae, his original and folk favorites bring a compelling energy to his fun and innovative approach. He recycles his music live on stage as a master live looper since 1990, "Music and technology working together powered by creativity." His hand-crafted guitars are created by David Seaton on the Gunflint Trail in Grand Marais. MN and are made of 200 year-old wood from the bottom of Lake Superior. Monroe began recording on vinyl in 1980 and later in his solar powered North Shore Log Cabin MisTree Studio in 1994, the alpha and omega of technology. His award-winning instrumental soundtracks have been featured on PBS/CBC, Toronto Enviro/New York Indie Film Fests as well as an Emmy for "Soaring On Mended Wings". Michael has recordings featuring many folk legends of our time such as Cat Stevens, Joni Mitchell, Simon & Garfunkel, and James Taylor. He hosted Log Cabin Concerts monthly in his log home on the North Shore for 17 years which were featured on KSTP's Jason Davis' "On The Road" and in Cabin Life and Lake Superior magazines.
"With heartfelt sincerity and a poetic touch in both the lyrics and music, Monroe explores subtle, quiet places that spark the imagination." City Pages
MichaelMonroeMusic.com