Description
The Interval at Long Now welcomes
Michael Mikel (a.k.a. Danger Ranger)
co-founder of Burning Man

The Five Ages of Burning Man
Check-in begins 6:30pm; talk will start 7:30pm
A three decade tour of the 5 distinct eras of Burning Man by one of its co-founders. Danger Ranger, who currently serves as Director of Advanced Social Systems
 for the event, will explain how over time the event and organization of Burning Man 
have evolved and been molded by external and internal forces.

Beginning on a small beach in San Francisco in 01986 and moving later to Nevada's Black Rock Desert, one of the largest open areas on the planet, Burning Man has grown from a one-night event to a unique ephemeral city to an international phenomenon. Organized around ideas including Radical Inclusion and Decommodification, it has evolved from an isolated retreat to a generator of public art and civic activity whose impact can be found around the globe.
Burning Man defines itself today as: "a network of people inspired by the values reflected in the Ten Principles and united in the pursuit of a more creative and connected existence in the world." We're honored to have one of the founders of that network who will explain how it got here and where it is headed to next.

This will be a special night and we expect tickets to sell out quickly. Remember that we have a limited number of Patron Tickets available that give extra support to the series and reserve a seat in the first 2 rows. Patron Ticket may be available after other tickets sell out.
We encourage you to consider joining Long Now, so you to watch this and other Interval talks live from home for free. Membership starts at just $8/month and supports all of our events, media and projects!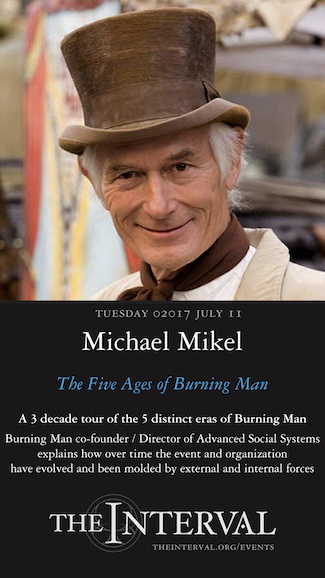 Long Now members can watch a free livestream of this event
Michael Mikel (aka Michael Michael, aka Danger Ranger, aka M2) is a co-founder of Burning Man and now serves as the Director of Advanced Social Systems
. He was instrumental in bringing Burning Man to the Black Rock Desert, and he has continuously driven innovation at the event ranging from bringing the first art car to the founding of the Black Rock Rangers; and outreach from connecting with regional groups to creating a Burning Man presence in Second Life.
Michael has also been a member of many social, countercultural and technological institutions of note including the San Francisco's Cacophony Society, which catalyzed the Burning Man Project; the machine performance group Survival Research Labs; and advertising 'improvement' culturejammers Billboard Liberation Front. His earlier career in Silicon Valley began in the 01970's and included developing the first robotic assembly line for Apple Computer's Fremont plant in 01986.
As a historian, Michael has contributed his papers, printed materials and personal artifacts from the Cacophony Society and Burning Man to numerous archives including The San Francisco Main Library, the Bancroft Library in Berkeley, the Special Collections archive at the University of Nevada-Reno, and the Nevada Museum of Art's Center for Art & Environment. His collection is instrumental to the current Nevada Museum exhibit City of Dust.

Long Now members hear about Interval events first: become a member today


Photos courtesy of Michael Mikel