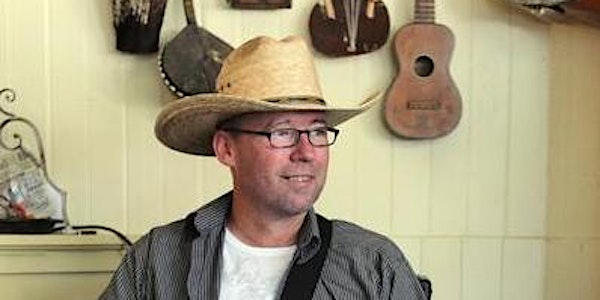 Michael McNevin at Evergreen House
When and where
Location
Evergreen House Concerts Evergreen Avenue Plainfield, NJ 07060
Description
Evergreen House Concerts
Presents....
Michael McNevin

Check out these short videos:
*************************************************************************
Michael McNevin is the real deal! His songs read like short stories. They are full of heart, humor, and a keen eye for detail. His accomplished guitar work and seasoned vocals underscore the characters and places he comes across in his travels.

Michael grew up in the train town of Niles, CA, in the east bay hills of the San Fransisco Bay Area. He started playing underage in East Bay bars, mixed in a six-month stint busking the streets and subways in New York, and has since logged 25 years on the U.S. songwriter circuit.

Michael has shared hall stages with Johnny Cash & The Carter Family, Donovan, Shawn Colvin, Richie Havens, Iris Dement, Greg Brown, Christine Lavin, Robert Earl Keen, and many of others.

He's been a main-stager at Strawberry, High Sierra, Kerrville, Redwood Ramble, American River, SummerFolk in Canada, and the Philadelphia Folk Fest. He's been the winner of the Kerrville New-Folk award in Texas, Performing Songwriter Magazine "DIY Artist Of The Year", 7-time grand finals "Song Of The Year" honors for West Coast Songwriters. He's also been a 3rd place finalist at both the Rocky Mountain Folks and Telluride Troubadour Competitions in Colorado, and was nominated Artist Of The Year by the National Academy of Songwriters.

Michael tours as a solo act in the US and parts of Europe, and occasionally gets a band together as McNevin & The Spokes. In addition, Michael is an Etch A Sketch artist of some renown, delighting and dumbfounding audiences. Not kidding, he illustrates his songs on the little red toy. When not touring, Michael owns and operates The Mudpuddle Shop, now in it's 14th year.. A converted 1920s barbershop, the 15'x15' space is a creative hive for acoustic concerts, workshops, showcases, and song swaps. His Etch A Sketch drawings hang proudly on shop walls, waiting for an earthquake.

Notable Quotes about Michael….

"...heard you on the KFOG acoustic Sunday morning show ... dig the tunes."
~ Tony Bennett

"The talent of Michael McNevin lies in his ability to extract juicy bits of life from his surroundings and let a tale unravel from each one."
~ The Performing Songwriter Magazine

"I don't know what's best about 'Sketch' - Michael McNevin's music or his Etch-A-Sketch drawings that accompany each song. McNevin is a singer songwriter of the highest order..."
~ Acoustic Guitar Magazine

*************************************************************************
This will be a Pot Luck Affair!
Pot Luck 'Hors d'oeuvres and Desserts'
Please arrive at 3:00 PM to share in food and conversation followed by the concert, which starts at 4:00 PM.
Coffee will be on hand, but please participate in the potluck by bring something awesome to share with the group, like Food, Wine, Beer, dessert, etc.
Get your tickets now!

Important! The actual street address will be shared by email a few days before the concert.
*************************************************************************
Save the dates!

Mar 15 Joe Crookston (Finally!)

Apr 19 The Kennedys (Yup!)
May 17 LipBone Redding (OMG!!)