Refund policy
Contact the organizer to request a refund.
Eventbrite's fee is nonrefundable.
A book discussion with Michael Lowenthal in conversation with Christopher Castellani on Lowenthal's new story collection.
About this event
Celebrate the release of Michael Lowenthal's collection Sex with Strangers. Books purchased on this page will include a signed bookplate--read on for details!
How to Register
Register on this page to receive a Zoom link
Register free, pay what you like, or buy the book to enter the event
If you don't receive a confirmation email after registering, contact us right away
Get Signed Books
Books ordered on this page will include a signed bookplate.
Books are held for pickup or shipped after ticket sales have closed.
STORE PICKUP- Pick up your book in person at Brookline Booksmith (Click here for directions). You will receive an email alert when your book is ready.
SHIPPING - Have your book shipped via USPS priority mail. Shipping is only available in the United States.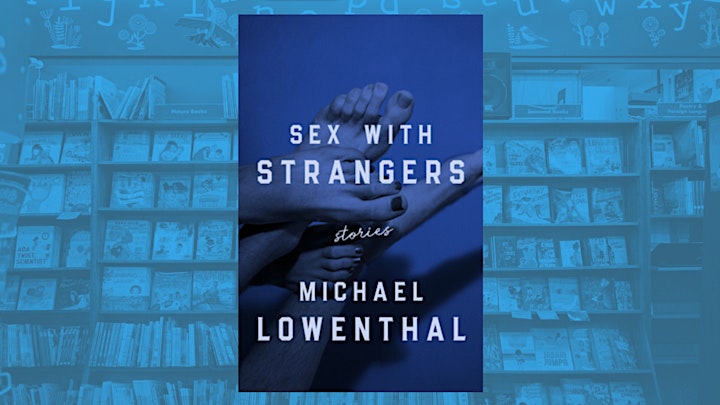 The Book
Sex with Strangers is a fiercely honest exploration of the risks and rewards of contemporary relationships—and hookups. The collection embraces the dizzying power of attraction across the spectrum of passion and infatuation. In this fearless collection, lust and loneliness drive a diverse cast of queer and straight characters into sometimes precarious entanglements.
Recognizing that any partner is unknowable on some level, Michael Lowenthal writes about how intimacy can make strangers of us all. A newly ordained priest struggles with guilt and longing when he runs into his ex-girlfriend. A woman weighs the cost of protecting her daughter from a man they both adore. A teenage busboy has a jolting brush with a famous musician. A young man tries to salvage a long-distance relationship while caring for his mentor, an erotic writer dying of AIDS.
In edgy, disquieting stories, Lowenthal traces the paths that attraction and erotic encounters take, baffling and rueful as often as electrifying. This fraught and funny volume forces us to grapple with our own subconscious desires and question how well we can ever really know ourselves.
Michael Lowenthal is the author of four novels: Charity Girl, The Paternity Test, Avoidance, and The Same Embrace. He lives in Roslindale and teaches in the MFA in Creative Writing program at Lesley University.
Moderator Christopher Castellani is the author of five books, most recently the novel Leading Men. He is the artistic director of GrubStreet.
About Brookline Booksmith
Brookline Booksmith, est. 1961, is a family owned bookstore located in the heart of Brookline, Massachusetts. Through our thoughtful curation, eager and voracious booksellers, and award-winning events series, we strive to be a haven for those who find comfort, enrichment, and joy in books.
Our general event series is all about one thing: bringing people and the stories they value closer together. The series covers an eclectic blend of genres and topics for all ages, serving as a platform for seasoned authors, promising debuts, local launches, large scale national events, and all the places where they intersect. Find more at brooklinebooksmith.com!