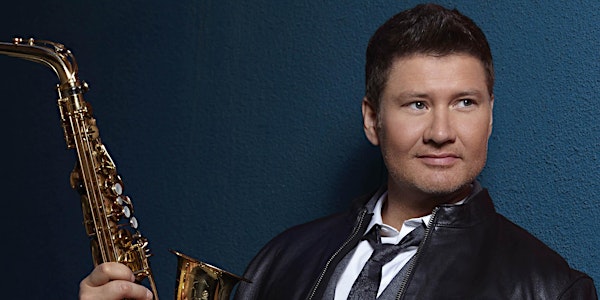 Michael Lington (5:30 Show)
UNDER 21 WITH PARENT OR LEGAL GUARDIAN
The Funky Biscuit Presents
Contemporary jazz saxophonist Michael Lington comes to The Funky Biscuit in Boca Raton, FL
When and where
Location
The Funky Biscuit 303 SE Mizner Blvd #59 Royal Palm Place Boca Raton, FL 33432
About this event
Reserve Seats for this event are subject to a $15 food or beverage minimum. All Premium Stage Bar Seats have a direct, unobstructed view of the stage, a private bartender and a $20 food or beverage minimum.
Michael Lington
Michael Lington, the Copenhagen-born saxophonist, songwriter and producer, has accomplished much in his two-decades-plus as an artist. He's released more than 10 solo albums, toured tirelessly, and even manages his own wine and cigar companies. But one thing he had never done before is record a Christmas-themed album.
Now, with the release of A Foreign Affair Christmas, his latest release, Lington can check that one off his bucket list. The album features a host of A-list guest stars, including Vince Gill, Dave Koz, Rick Braun, Russ Freeman and others, performing on such holiday classics as "Silent Night," "Have Yourself a Merry Little Christmas" and "Silver Bells," as well as compositions by the late George Michael and Donny Hathaway.
For Lington, the collection, which he produced, has been a long time coming. "I have wanted to record a Christmas album for many years but couldn't quite decide if it should be a classic or a contemporary sound," he says. "Christmas is a magical time and the music is a very important soundtrack to it, and during a trip to perform in Barbados for Christmas last year, I came up with the concept to make a feel-good album with unique arrangements, while incorporating styles and artists from all over the world"
The key to making the album stand out from other holiday collections, Lington feels, lies in the arrangements and the production. "I knew that sonically and stylistically it would all come together beautifully, even though we would mix contemporary with classic songs."
In addition to the tracks noted above, Lington—who plays alto and tenor saxophone, keyboards and percussion on the recording—includes his interpretation of "A Child is Born in Bethlehem," a traditional Scandinavian song. There's also a medley of two classics, "Winter Wonderland" and "Let it Snow." Says Lington, "I started a list with my all-time favorite songs and narrowed it down to my nine must-have tracks. When Vince Gill and I talked about doing something together on the project, he suggested doing Donny Hathaway's 'This Christmas,' and since that song was already on my list, that was a particularly easy choice."
Choosing the other guests was a joy for Lington. "I love to collaborate, and the album was always going to be a 'Michael Lington and Friends' type of album because I wanted to incorporate diverse guests from different parts of the world," he says. "But it also makes it interesting to the listeners to hear their favorite artists in a different light, like Vince Gill singing a Donny Hathaway song or Phillipe Saisse playing the vibraphone. Picking the guests started with looking at artists from other countries like Philippe Saisse, Chris Standring and Marc Antoine, all of whom I have known for many years, and then adding super-talented artists that I felt would be amazing on specific songs, like Vince Gill, Dave Koz, Russ Freeman, Rick Braun and Sheléa."
Once the songs and the contributors were chosen, Lington set out to craft the album around them. "I produced it myself because I had a really clear view of what I wanted to achieve with the music," he says. "I put together an amazing session band including Gregg Phillinganes, Alex Al and Eric Valentine, and recorded it all live in the studio to get that magical thing that happens organically when you are doing it together. Then I added colorings with Paul Jackson Jr., Luis Conte and many other amazing musicians. I had the great producer and engineer (and previous collaborator) Paul Brown mix the album and it was mastered by legend Bernie Grundman."
A Foreign Affair Christmas follows Lington's 10th solo release, 2018's Silver Lining, which also included top guest artists, among them soul music legend William Bell and Dave Stewart of Eurythmics. Lington's journey has taken him a long way since his youth in Denmark, where he first fell in love with jazz, pop, R&B and other forms of music.
When he was still a kid with only dreams of playing music professionally, Lington was initially inspired by his grandfather, the highly regarded Danish composer and bandleader Otto Lington. "I got into music because of him," Michael says. "I was so mesmerized by his life and career and I remember very early on that I thought it would be a great life for me. I was blessed with a raw talent but I had to work hard on refining it and figuring out who I was and what my voice was. I won a talent competition in Denmark in the late '80s and I remember saying to myself, I can do this!"
Immersing himself in his favorite music—David Sanborn, Michael Brecker, King Curtis, Hank Crawford, Cannonball Adderley and Grover Washington—the young musician started out on clarinet but soon found his true calling, the saxophone. But it wasn't until he was on the verge of turning 20 that Lington—now recognized as one of the most creative and successful contemporary soul and jazz saxophonists in the world—made his fateful decision to move to America and pursue his music. "I said, 'This is what I want to do with my life.' I was young and told myself it wouldn't be so hard to do. I was wrong. There were many obstacles to overcome, particularly because I hardly knew anyone."
Nonetheless, he persevered and began to make his mark in his adopted country, where he was known for his versatility. It was soul music that hit him most directly. "It spoke to me very early on in my life—it's just a feeling and reaction I had when I would hear it," he says.
Lington worked with singer Bobby Caldwell for four years and vocalist Randy Crawford for three. But by the end of that decade, Lington became a frontman and worked at developing his own sound and a more personal approach. He signed his first contract as a solo artist in 1996 and released his self-titled debut the following year. For the past two decades, all of his releases have found favor with a growing audience, and Lington has garnered numerous awards as well as chart-topping albums and tracks.
He's also learned much about business along the way, which led him to launch his own record label, Copenhagen Music, in 2014. Lington is also an entrepreneur outside of music, operating his own wine and cigar companies. He continues to tour, performing as many as 80 concerts per year, and has played in more than 40 countries, working many of the world's most prestigious venues. He's even performed for a U.S. president, Bill Clinton.
Now, says Lington, "It's been more than 20 years since my first album and I feel I'm just getting started. I am comfortable in who I am as an artist. I don't think a lot about success. I'm more interested in what's happening next, what is my next journey or chapter."