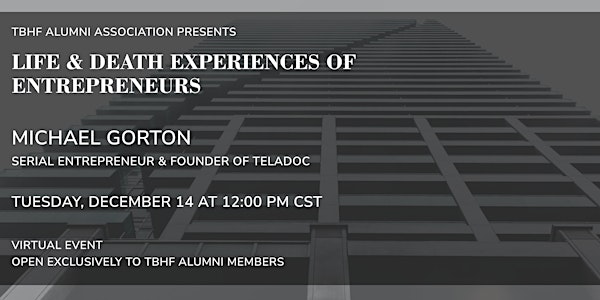 Michael Gorton: Life & Death Experiences of Entrepreneurs
The TBHF Alumni Association presents a virtual event open exclusively to TBHF Alumni Members
About this event

Tuesday, December 14th from 12:00 pm to 1:00 pm CST
Via Zoom (link will be sent with confirmation email)
Join us for a virtual conversation with serial entrepreneur and Teladoc founder, Michael Gorton. Gorton has founded 14 companies, with a focus in the digital health industry. Founded in 2002, today Teladoc serves more than 175 countries and is recognized as the world leader in whole-person virtual care. Since founding Teladoc, Gorton has continued to innovate in the telemedicine space, including his latest venture, Recuro Health. Recuro Health is an integrated digital health solution that transitions the U.S. healthcare system from a reactive, disease focused model to a population health, outcomes approach.
Michael will discuss his origins as a founder and entrepreneur, the future of the telemedicine space, and identifying industry-changing ideas.
This is a unique opportunity to learn from a Texas founder who has disrupted the digital health space and challenges the status quo. This event is offered exclusively to TBHF Alumni. Space is limited (we only have 25 spots), so please reserve your spot today. We look forward to seeing you there!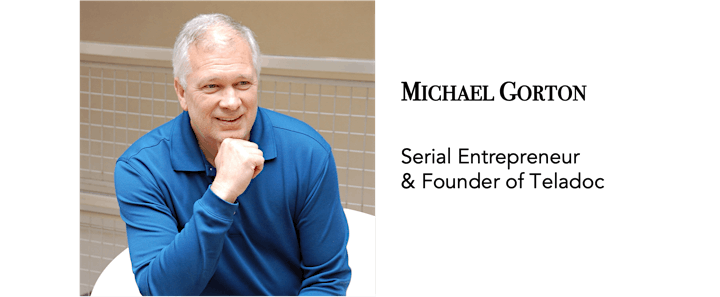 About Michael Gorton
Michael Gorton is a 14x serial entrepreneur and one of the pioneers in the telemedicine and digital health space, which is rapidly becoming a trillion-dollar industry. Gorton is the founder of Recuro Health, Internet Global, Teladoc, Palo Duro Records, Back To Space, and Principal Solar, to name a few. Gorton is also a best-selling author, with his book Broken Handoff, advice and lessons learned from his entrepreneurial journey. Gorton holds a BS in electrical engineering and engineering physics from Texas Tech, an MS in Space Physics from The University of Texas at Dallas, an MS in physics and engineering from the University of Texas at Austin, and a JD from Texas A&M University.
About the Alumni Association
The TBHF Alumni Association helps its members become legendary business leaders in the State of Texas. We do this by fostering connections, providing mentorship, inspiring through stories, sharing wisdom, and recognizing excellence. Join today and experience the benefits of Membership.