Radio Woodstock 100.1 & Impact Concerts Present Michael Franti & Spearhead Trio on Sunday, September 5, 2021 at Arrowood Farm Brewery.
About this event
with openers OF GOOD NATURE an DIANA DEMUTH

This show is SOLD OUT.
Can't use your tickets?
Parking: PLEASE CARPOOL!
Limited on-site parking is available for $10/car. Cars carrying 3 or more people will park for free. PLEASE CARPOOL! If everybody attending the show comes in a car of 3+ passengers, we can fit all of the cars! Once again, PLEASE CARPOOL!
Limited parking for vehicles with ADA placards or license plates is available. Please identify yourself to a parking attendant when you arrive.
What are the hours of the show?
Gates: 4pm (do not arrive before this time!)
End: 10pm
What can I bring into the show?
Bags smaller than 16"x16"x8" will be permitted inside the venue.
Please bring an EMPTY reusable water bottle which can be filled at our water bottle filling station!
Low-backed chairs (under 30″) to ensure good viewing for your neighbors. These are only allowed outside no chair zones.
Strollers that are reasonably sized and do not obstruct the view of others
In the event of rain, handheld umbrellas are allowed in the venue and in seating areas but must be closed and stored during sets so as not to obstruct the views of others.
Non-professional cameras are permitted but cannot be used to reproduce the event and must not interfere with other fans' enjoyment of the show. (No audio or video recording)
What should I leave at home?
Bags larger than 16"x16"x8" will NOT be permitted inside the venue.
No blankets - the concert field isn't large enough to accommodate them.
No coolers, outside food, beverages, glass containers of any kind, alcoholic beverages, illegal substances of any kind, firearms, noise-making devices, laser pointers, knives, box cutters, tools of any kind (including hammers, knives, screwdrivers, etc.), pepper spray, mace, or any kind of item that could be used as a weapon.
Professional audio visual equipment
Beach umbrellas or beach balls
Pop up tents
Pets (sorry, we love dogs and cats 🐾 but cannot allow them into the concert)
Drones
COVID Safety
The event intends to follow the recommendations of local, state, and federal authorities on safety measures related to COVID-19. These measures MAY include requiring masks, observing social distancing, checking vaccination status, checking test results, or performing on-site testing. Further information will be provided as we approach the event.
What's included in a VIP Ticket?
VIP includes:
Access to VIP hangout area with exclusive viewing in front of the Main Stage
Access to indoor flushable bathroom
Complimentary hors d'oeuvres and VIP-only beer specials
Am I allowed to leave the concert and re-enter?
To ensure our fans' safety and efficiency of our entry operation, we are not able to allow re-entry. That means that you may only enter the concert once and will not be able to leave and re-enter. Sorry, but you can't go back to your car. Please bring everything you'll need into the concert with you when you arrive!
What happens if it rains?
This is a rain-or-shine event! Please check the weather and be prepared for inclement weather. In the case of severe weather, please check this website for updated information!
Can I bring my kids?
Of course! Children 10 and under will be admitted free with a paying adult. Children older than 10 will require their own ticket.
Can I camp?
Sorry, but there will is no camping allowed at Arrowood Farm Brewery. If you are interested in camping nearby, checkout the Rondout Valley Resort Campgrounds located just 1 mile away!
Can I leave my car overnight?
Sorry, but you may not leave your car overnight at Arrowood Farm Brewery. All cars left over at the conclusion of the music on Saturday or Sunday night will be towed at the owner's expense.
MICHAEL FRANTI
Michael Franti is a globally recognized musician, humanitarian, activist and award-winning filmmaker revered for his high-energy live shows, inspiring music, devotion to health and wellness, worldwide philanthropic efforts and the power of optimism. Throughout his multi-decade career, Franti has earned three Billboard No. 1's with triumphantly hopeful hits "Sound of Sunshine," "Say Hey (I Love You)" and "I Got You," as well as six Top 30 Hot AC singles, nine Top 25 AAA Singles and three Billboard Top 5 Rock Albums. "I Got You," lead single from his latest album Work Hard And Be Nice, marked Franti's first No. 1 in nearly 10 years and landed on NPR's "Most Popular Songs of 2020," while the music video boasts over 1 million views since its release. Michael Franti & Spearhead recorded the 17-song album in studios in Nashville, Los Angeles and San Francisco working with A-list writers and producers on what has been called their most diverse record yet.
In January 2019, Franti released his self-directed documentary "Stay Human," which won an array of awards at film festivals worldwide and influenced his writing for his album Stay Human Vol. II (Thirty Tigers), which debuted at No. 1 on both the Americana and Independent Album charts and received critical acclaim from USA Today, Billboard, Associated Press and Paste. Influenced by the film, Franti's Stay Human podcast on American Songwriter Podcast Network launched in October 2020, featuring creatives from all walks of life, with new episodes available each week.
Deemed a "groundbreaking musician" by Entrepreneur, Franti launched a virtual event revolution in June 2020 with his Stay At Home Concert World Tour, a creation prompted by his first summer in 33 years in which he wasn't on the road due to the global pandemic, performing for over 50,000 fans worldwide with seven uniquely themed virtual livestreams. In order to better connect with his Soulrocker community, Franti developed a dual-screen model, allowing fans to join a "Backstage Zoom Party Room" and interact directly with one another.
 
Michael Franti & Spearhead continue to foster their community both on and off stage with a wish granting non-profit, Do It For The Love, founded by Franti and his wife, Sara. Do It For The Love brings those with life threatening illnesses, veterans, and children with severe challenges to concerts worldwide, fulfilling over 3,300 wishes and touching the lives of over 12,000 people to date. Franti also owns SOULSHINE Bali (where he and his family have resided since February 2020), a 32-room top-rated yoga retreat hotel located in Ubud, Bali.
OF GOOD NATURE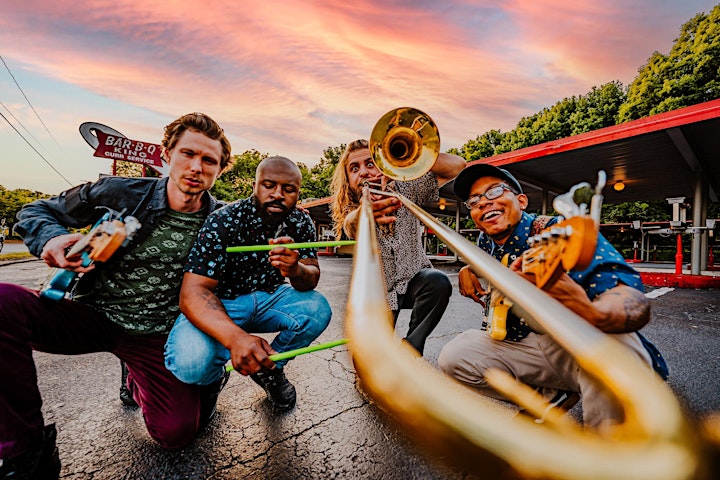 Of Good Nature incites and unites listeners with a fusion-friendly approach to today's music, uncovering a highly accessible sound that concentrates on lyrics, uplifting energy, and musicianship, packed into a potent blend of alternative, pop, rock, soul, and reggae. Ever evolving, they're always searching for new ways to incorporate different genres and styles, creating extraordinary and exciting music that is unlike any other band in their wheelhouse. On May 7 2021, Of Good Nature released their newest cover single, "Valerie" ft The Elovaters; original song by The Zutons and iconicized by the great Amy Winehouse. This group of prolific songwriters strengthened their dedicated followers and engaged new listeners with the May 2020 release of their fourth studio album, "Everything Turns Gold" (recording with A-list producer Danny Kalb [Beck, Ben Harper] a second time). Additionally in 2020, the band was selected by Sierra Nevada as a featured artist for 'Doing Big Things' for partnering with RoofAbove Charity and raising donations to help the homeless in the band's hometown of Charlotte NC through live-stream performances. OGN is getting back on tour to do what they do best, performing live music for audiences across the country, recently announcing tour dates across the United States with Badfish : Tribute to Sublime and festivals . Of Good Nature's band members include Cam Brown (guitar, vocals), Brandon Hucks (trombone), David Hamilton Jr. (drums), and Clifton Bundick (bass).
DIANA DEMUTH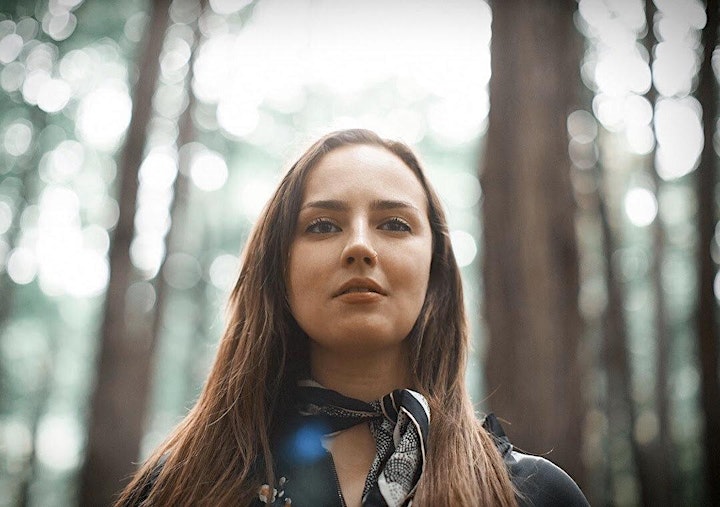 Restless and ready to pave her own way, Diana DeMuth has burst onto the singer-songwriter scene with an arresting perspective about life, love and self-discovery.
Growing up on the coast of Massachusetts, DeMuth was immersed in a bohemian upbringing where she moved from place to place with hippie parents. That same restless spirit inhabited DeMuth: she always had a sense that there was something out there beyond where she grew up and that existence. After seeing The Avett Brothers from the front row when she was 13, DeMuth was enamored with their raw performance and hunger on stage. In that moment, she knew she wanted to be an artist one day. So at 19, after going to college for one week, DeMuth left because she was certain music was her path. For the past five years, she's focused on just that, spending her time traveling and playing small gigs around America, while waitressing and honing her craft.
In her travels, she spent time in London. Feeling aimless, she ended up writing "Hotel Song," which would become the lead track of her forthcoming album Misadventure. "I just busted out of this hotel/ Took all of my belongings/ And I ran for it," DeMuth belts in the opening line over stark keys. For DeMuth, the song was a breaking point: a door opening into a new chapter of her life. The track's vagabond chorus evokes the liberating feeling of driving down an empty road with nothing but your dreams, destiny and the windows down.
At the same time DeMuth began looking for a producer who would be a match for her music. Through her love of The Lumineers and Jade Bird, she stumbled upon multi-platinum record producer Simone Felice, who in a serendipitous twist of fate, had also in his past worked on The Avett Brothers' seminal album I and Love and You. (Things fell even more into place when Scott Avett ended up penning one of the tracks on the record with DeMuth, "The Young & The Blind.")
To record her debut album Misadventure, DeMuth and Felice teamed up with Felice's longtime collaborator David Baron at a Catskill Mountain house overlooking the Ashokan Reservoir outside Woodstock where the music flowed quickly and freely, and together they began to record her record. Inspired by everything from the Bonnie Raitt that was playing in her house growing up to The Lumineers and Brandi Carlile, DeMuth's penchant for evocative storytelling and folk sensibilities shine through the 10-track record. And through those songs, DeMuth tells the story of her journey to self-discovery.
On "Signs," she contemplates her identity and what her path will look like: "All my life I've tried my hand at reading the signs/ But I'm still blind/ Still counting the things I need in the night." In-between the ringing of tambourine bells, DeMuth confronts the constant need for something more. On "Photographs," co-written by Felice, DeMuth further dives into the human condition, reeling from the raw, devastation in the aftermath of a breakup. With "Rose of Nantucket," DeMuth returns to the restlessness of "Hotel Song," her smokey vocals chanting the chorus, "If you get lost in the howling rain/Cause some fucker changed that sign post to lead you astray." "Into My Arms" picks up where "Rose of Nantucket" leaves off with a more upbeat DeMuth flaunting her sassy lilt on the chorus.
For DeMuth who struggled with ADD growing up, songs were her doorway into prose and fiction. Misadventure reads as a novel with each song an illuminating chapter of DeMuth's life. What she's created is a musical tapestry of what it's like to go through the cycle of losing yourself, fumbling in the dark and ultimately finding your way.
Performers
Date and time
Location