Sales Have Ended
Registrations are closed
Thank you for supporting the MVLA Parent Education Speaker Series.
Sales Have Ended
Registrations are closed
Thank you for supporting the MVLA Parent Education Speaker Series.
Join us for an evening with author and clinical psychologist, Dr. Michael Bradley, as he helps parents navigate the often crazy teen years.
About this event
Being a teenager has never been easy. But with the crazy world that's been handed to today's teens, it's tougher than ever. The only job more difficult than being a contemporary teen is being the parent of one.
Join us as we welcome Dr. Michael Bradley, whose respect-based philosophy is at the heart of the presentations he has given to thousands of parents who are seeking ways to communicate with their adolescent children. He takes you inside your teenager's head and shows you why teens think and behave the way they do, and gives parents real-world advice, strategies, and methods to use.
Over his long career, the stories of courage and hope Dr. Bradley encountered became the basis for his bestselling book, Yes, Your Teen Is Crazy! - Loving Your Kid Without Losing Your Mind and its companion, Yes, Your Parents Are Crazy! A Teen Survival Guide. Both are now widely regarded as the gold standard in teen parenting books and give parents training and skills needed to transform teenage children into strong confident, productive people.
Biography
Michael J. Bradley, EdD, award-winning author, has counseled adolescents and their parents for over 30 years and currently has a private practice in suburban Philadelphia.
As a recognized specialist in adolescent behavior and parenting, Dr. Bradley is in demand as a speaker and facilitator for mental health professionals, educators, and parenting groups. He has appeared on over 400 radio and television shows, including CNN, The Today Show and Good Morning, America, and has been interviewed by numerous magazines and newspapers such as USA Today, The Philadelphia Inquirer, and Parent Magazine.
In addition to public speaking and continuing his private practice, Dr. Bradley serves as a consultant to schools, providing risk assessments and offering training in parenting and violence-reduction.
Additional Information
Audience: Parents, caregivers, and educators of middle school and high school students
Admission:  Free
Sponsored By
Mountain View Los Altos High School Foundation
Los Altos Educational Foundation
Mountain View Whisman Educational Foundation
Los Altos-Mountain View PTA Council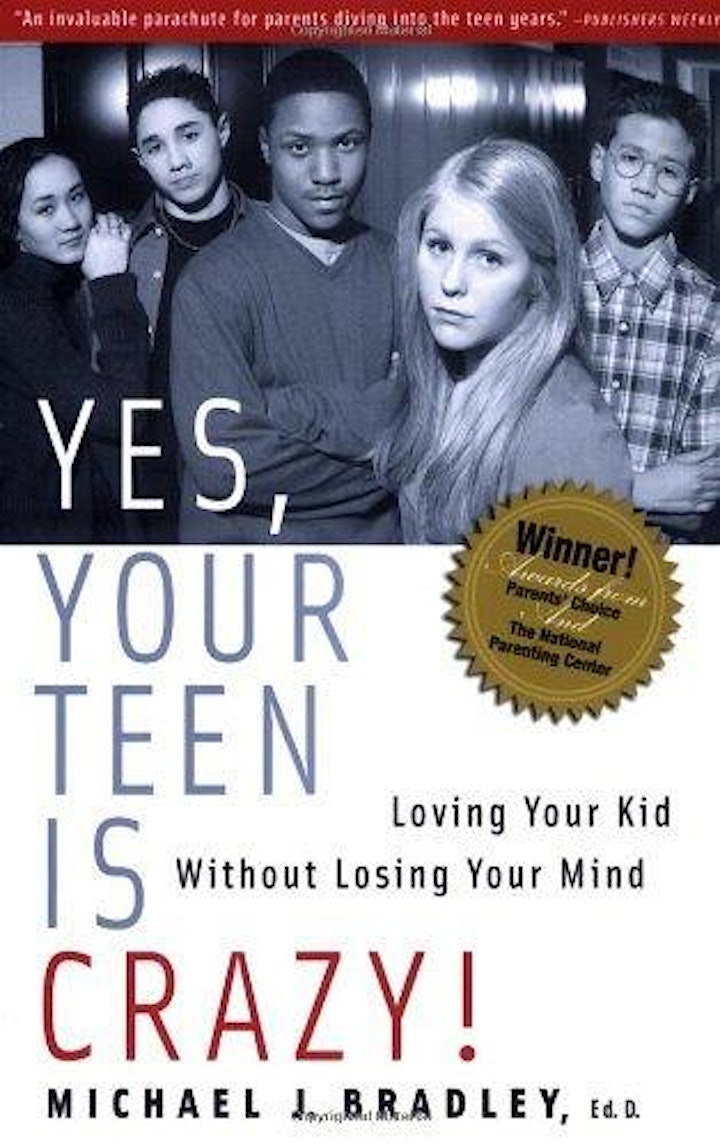 Organizer of Michael Bradley - Yes, Your Teen Is Crazy
Through enriching presentations from local and national experts on topics of interest to parents, faculty and staff, the MVLA Parent Education Speaker Series seeks to contribute to the academic, physical, and emotional health of our students. All events are free of charge and are for parents, faculty and staff in Los Altos and Mountain View public schools.
Sponsored by: MVLA High School Foundation, Los Altos Educational Foundation, LAMV PTA Council, and Mountain View Educational Foundation.
For more information: mvlaspeakerseries.org