Michael Allman with South Rock and Cure My Enemy at Eddie's Attic in Decatur, GA!
About this event
Michael Allman
Michael Sean Allman is a musician. He is the lead vocalist and frontman to the Michael Allman Band. He is the first-born son of Rock and Roll Hall of Fame inductee Gregg Allman (founding member of the Allman Brothers Band).
Career
While the Michael Allman's album Hard Labor Creek stands on its own merits, he isn't ashamed of his heritage, and there are several references to his famous father. "Laid Back" written by Sonny Tackett, was inspired by Gregg Allman's album of the same name. "If Dreams Were Money" was written for Gregg Allman years ago by veteran Boston musician Bruce Marshall.
Still, the spotlight is firmly on Michael, who wrote four of the songs on the CD, and delivers each tune with the kind of thoughtful approach that squeezes the inner meaning out of every song that he sings.
Michael has become his own man, with a style similar to his father but with his unique growls and stage presence he wows the fans over. He will always be the son of Gregg Allman and keep his music alive, but his own music will live on for eternity just like his father.
Michael Allman and MY PEACH LIFE LLC
SOUTH ROCK
SOUTH ROCK is a high energy rock band that takes modern southern rock to a whole new level. Combining their classic rock roots and southern rock influences to create a totally new, fresh and original southern rock sound.
Cure My Enemy
Who we are defines our music. Our beliefs and creativity come together to exalt deep grooves and hints of raw spirituality derived from our roots in the contemplative Blue Ridge mountains of Virginia, and the sidewalk currents of Atlanta, Georgia. Thick head-bobbing drums command the movement. Original unique uses of guitar and bass underlie emotion that is expressed in people's lives. The vocals wrap the music up in an outpour of soulful conclusion bringing realization of who we are as people existing in the world. Groove. Passion. Deity. Love. We hit where the soul is with City Groove and Rural Grit.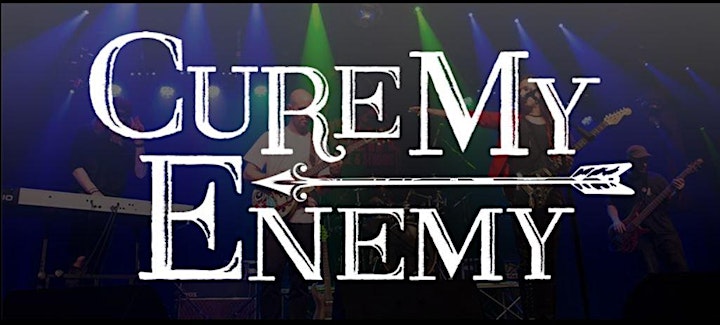 Performers
Date and time
Location
Refund policy