Description
Micaiah School of the Prophets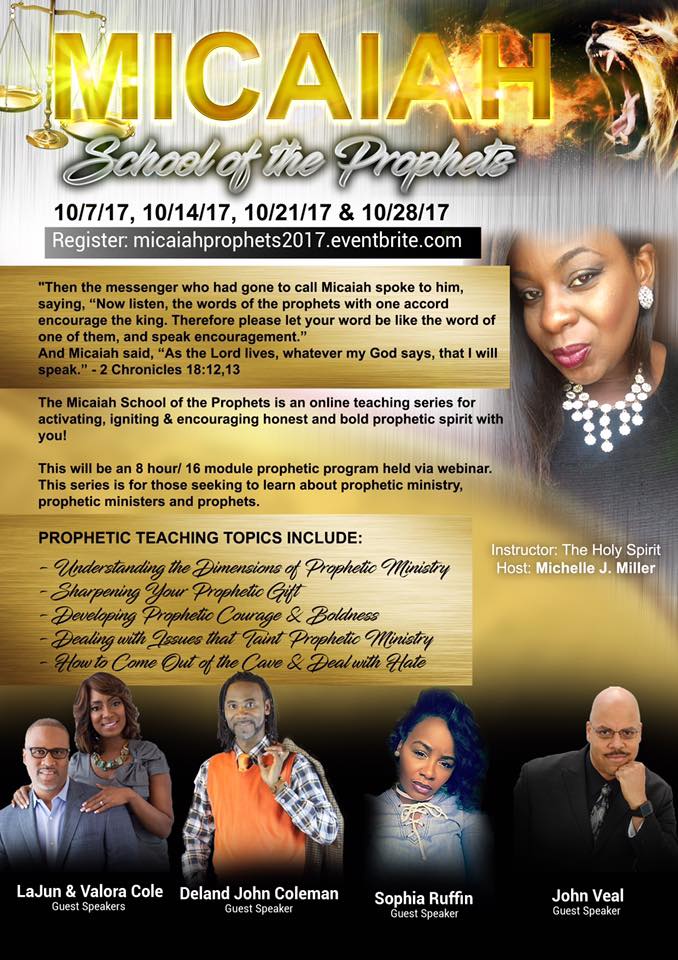 This is a intensive and empowering 8hr/16 module teaching about the foundation and dimensions of prophetic ministry. The online class will be held every Saturday in October 2017 and it is especially designed to ignite authentic, bold and truth prophetic ministers and prophethic voices that walk in integrity. Participants will gain prophetic revelation and momentum that will launch them into a new spiritual level.
This webinar is for the servants of God. This webinar are for those who love what God loves and hate what God hates. This webinar is for the uncompromisingly righteous. This teaching series will activate the prophetic spirit within you and give you the tools you need to be an powerful voice for the Lord.
We will have a few special guests for our sessions so get ready to here some seasoned and powerful prophetic voices.
- Selection and registration for one date provides access to all dates.
- After you have registered please join our PRIVATE Facebook Page: "Micaiah Prophets."
- A few days before the first session you will receive a link to the webinar
- A few days before the first session you will receive a syllabus and PDF study guide
If you have any questions, please send your inquiries to: admin@michellejmiller.global
I LOOK FORWARD TO YOUR PARTICIPATION!

Save
Save
Save
Save
Save