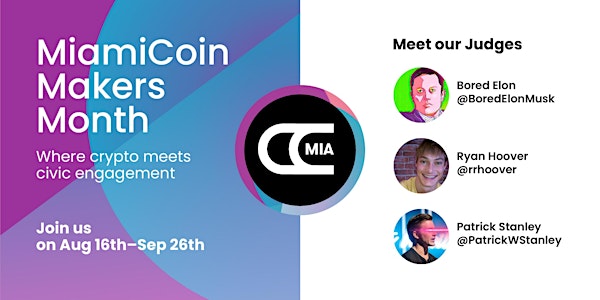 MiamiCoin Makers Month
MiamiCoin Makers Month is a month-long remote hackathon where creators are encouraged to build public utilities using MiamiCoin.
About this event
MiamiCoin Makers Month is a month-long remote hackathon that brings together hackers, designers, and creators who are passionate about creating apps for Miami via the MiamiCoin protocol. The goal is to encourage developers everywhere to create something that has tangible value for ordinary citizens and MiamiCoin stakeholders.
To that end, participants are encouraged to think outside the box when building apps and infrastructure using MiamiCoins. The judges will select three winners (1st, 2nd, 3rd place), which will be chosen on the basis of ease of use, impact, and creativity. The possibilities enabled by MiamiCoins are infinite and are meant to empower all types of creators – from those who already have a clear vision of how to redefine civic engagement to those of you who simply want to experiment!
The Challenge:
Build an application that contributes to the core foundations of the MiamiCoin ecosystem/user experience. Projects falling under this category include anything from trustless mining DAOs and DEXs to personalizable MiamiCoin wallets, visualization dashboards, and more. Here are some concrete examples to get you thinking:
Access Controls:
City-based tokens could grant and control access rights to certain digital or physical spaces and services. Communities can design apps for token holders to use. They can also create new services that replace or enhance existing services offered by third-party businesses or funded by local governments. Some examples include:
• Establish a "Proof of HODL"—login credential for certain physical and digital spaces and events. One could imagine accessing WiFi at select cafes by signing in with keys that hold a balance.
• Create a decentralized global network of WeWork-style coworking/living spaces that requires city-based tokens to access.
• Integrate tipping into local transportation apps (i.e. Uber or CitiBikes, or even creating a community-run Uber-like application with its own transparent and inalterable reputation and dispatch system).
Financial Incentives:
There are many reasons local organizations might offer benefits and incentives tied to city-based currencies, such as rewarding citizens––both new and lifelong residents––for participating in the local economy and injecting more capital to build a better community.
Some possibilities:
• Collateralized loans to attract new businesses and founders, stimulating the growth of new industries.
• Crowdfunding for local services such as maintenance needs (imagine payments that are made in city-based tokens that will be locked in an app until the job is done, then distributed to the service provider).
Community Governance:
City-based tokens can be used for capital voting, enabling token holders to vote on proposals. For instance:
• Users could delegate their tokens (without losing them) to help modernize their communities by funding new initiatives, such as free WiFi or new solar panel installations.
• Communities from different cities can pool their tokens to propose and vote on regional initiatives and projects.
One framework for thinking of new ideas is simply asking what both the MiamiCoins users and the broader Miami community needs the most right now — and to build something usable that addresses this need within a month!
The Judges:
• Ryan Hoover - Founder of Product Hunt and The Weekend Fund
• Bored Elon Musk - Founder of the Bored Fund and Twitter Parody account
• Patrick Stanley - CEO of Freehold
What to Submit:
Use this link to submit the following:
• Your working application (typically accessible by the Stacks Web Wallet)
• Access to your working application and code repository for judging and testing. (If your code repository is private, please share access with email).
How to register:
Register here on EventBrite by entering your email
Prizes:
• Cash (bitcoin) for the top submission(s). $20,000 for 1st place, $4,000 for 2nd place, and $1,000 for 3rd place
• Additionally, the winner will be announced by Bored Elon Musk and Ryan Hoover from Product Hunt.
• Winning teams and their hackathon entries will be featured on CityCoins' blog page.