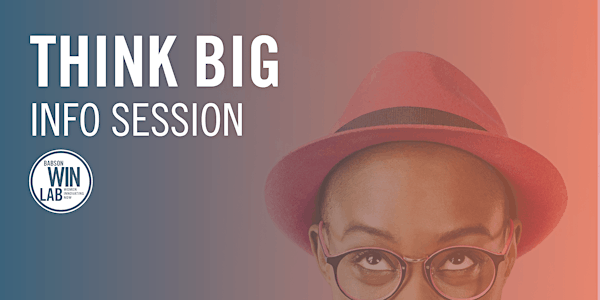 Miami WIN Lab - Think BIG Info Session @ Venture Cafe (Apr 18th)
When and where
Location
CIC Miami 1951 NW 7th Ave First Floor Miami, FL 33136
Description
The Babson College Women Innovating Now (WIN) Lab® is a five-month long program designed specifically for women entrepreneurs that accelerates their entrepreneurial paths. The WIN Lab® invests in women, empowering them to disrupt, experiment, and build successful businesses on their own terms.
Join us for this hybrid info session meets content session where Melissa Doval, CEO of Kairos and former WIN Lab coach, will be talking about "Thinking Big" as it relates to building your startup and translating that mentality through the WIN Lab application. Learn how to define and articulate your long term vision for the company, while communicating your strategy for scalable growth and widespread impact.
The agenda for the evening:
7:00 – 7:30 pm: General info session led by Miami WIN Lab Team
7:30 – 8:15 pm: Think Big content with Melissa Doval
8:15 – 8:30 pm: Networking and Q&A
For those who attend, we will provide a discount code to waive the application fee.
Head here to read our FAQs and here to look at the application.

About Melissa Doval:
Melissa Doval is the CEO of Kairos, which provides state-of-the-art, ethical, face-recognition technology to developers and businesses worldwide. With nearly 20 years' experience as a highly successful leader with expertise in finance, accounting, human resources, business strategy, and technology, she uses her passion for entrepreneurship and technology to build and develop companies from the ground up. After beginning her career in 1998 as a CPA with Kaufman, Rossin & Co., Ms. Doval worked for top companies such as World Fuel Services (NYSE), Live Nation (NYSE), and MTN Satellite Communications, before taking the role of CFO for The Recon Group, Inc. Born to Cuban immigrants and raised in Miami, she has strong ties to the community through charitable organizations and her other work with minority and women-led businesses. Ms. Doval earned her M.S. in accounting from Nova Southeastern University, as well as a B.S. in accounting from Florida International University. https://www.linkedin.com/in/melissadoval/