MIAMI WATCH PARTY México in the 2018 World Cup

Wednesday, June 27, 2018 from 9:00 AM to 12:30 PM (EDT)
Event Details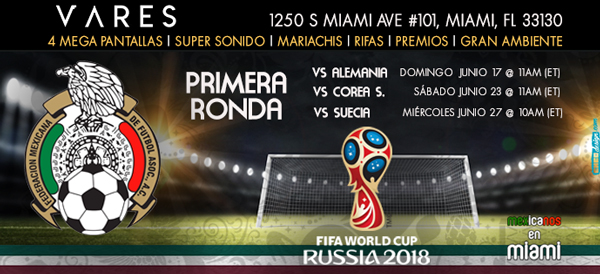 MIAMI WATCH PARTY México in the 2018 World Cup
You are invited to the watch parties of the Mexican Soccer Team during the 2018 World Cup, organized in an awesome sport's bar in the heart of Brickell, recently renovated with 4 mega screens, 7 high definition plasma TV's, powerful surround system sound, A/C and a nice terrace. Definitively B-Vares is the best place to watch the world cup in Brickell and to join the vibrant Mexican community to cheer up to win.
Share with us the soccer fever as you enjoy the Mexican hospitality with mariachis, raffles and giveaways. Table reservation is strongly suggested by calling (786) 631-5396. NO COVER,  for general attendance please RSVP and Viva MEXICO https://watchpartymexicoworldcup.eventbrite.com. If you want to make a table reservation please go to this link https://reservamesasvaresmexicovscorea.eventbrite.com 
Intégrate a la comunidad de Mexicanos en el Sur de la Florida para gozar juntos de los partidos del 'TRIcolor'. Vive la pasión del mundial en el corazón de Brickell, con 4 mega pantallas, 7 plasma TV's colaterales, sonido de primera, en un gran ambiente de sport's bar con amplio espacio con aire acondicionado y también con una terraza agradable.
Además vivirás un ambiente mexicano inigualable, con mariachis en cada partido, especiales en comida & bebida, rifas, regalos, vuvuzelas, baloncitos, variedad de chacharitas de nuestra selección y demás sorpresas. Vístete de verde, blanco o rojo y no te pierdas del gran festejo mundialista que organiza Mexicanos en Miami
ENTRADA LIBRE, SIN COVER Y ABIERTO PARA TODA LA FAMILIA.
Con el mejor ambiente mexicano que encontrarás en Miami
✔️ Mariachis
✔️4 mega pantallas y muchas TV de alta definición 
✔️ Cobertura de medios de comunicación
✔️ Fotos sociales y con celebridades
✔️ Shot gratis
✔️ Regalos 
✔️ Rifas
✔️ Concursos
✔️ Nuevo menú con toques mexicanos 
✔️ Más de 100 sillas "first come firt served"
✔️ Aumento de mesas 
✔️ No cover 
✔️ Nuevo DJ mexicano 
✔️ Visón del juego de todas partes 

PARA CONFIRMAR ASISTENCIA Y PARTICIPAR EN SORTEOS
Solo confírmanos tu participación en este enlace https://watchpartymexicoworldcup.eventbrite.com
**Este registro es solo para tener acceso, no garantiza ninguna mesa o sillas
PARA APARTADO DE MESAS Y RESERVAS DE ESPACIO ANTICIPADO
Entra a este enlace, consulta la disponibilidad de mesas en el mapa y reserva  https://reservamesasvaresmexicovscorea.eventbrite.com
**Mexicanos en Miami NO es responsable de la reserva y administración de las mesas. Es directo con el lugar.  Estaremos apoyando para que las reversas para los próximos eventos sean agiles y fácil de confirmar por este mismo medio electrónico. Accedan al enlace y ahi mismo podrán garantizar su mesa con un deposito. Existe consumo mínimo si desean asegurar una mesa.
SOBRE MESAS LIBRES SIN CONSUMO MINIMO Y MUCHOS MAS ASIENTOS 
Se tienen mesas donde no existe un consumo mínimo, pero estas no pueden ser reservadas. Son "First Come, First Served", por lo que serán liberadas conforme vayan llegando los asistentes el mismo dio del evento y la host del lugar las ira asignando. Igualmente se tendrán más de 100 sillas distribuidas a lo largo del establecimiento dentro y fuera para la comodidad de los asistentes que lleguen temprano y vayan tomando esos espacios. 
PROXIMOS PARTIDOS
Sábado 23 Junio - MÉXICO vs Corea del Sur > Partido comienza 11am
Miércoles 27 Junio - MÉXICO vs Suecia  > Partido comienza 10am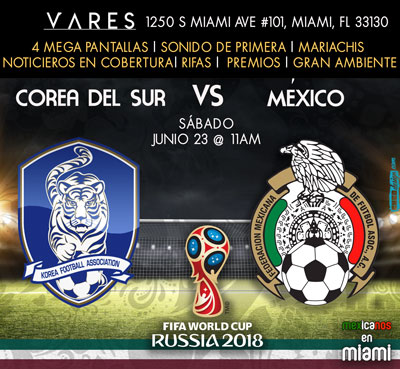 Únete a la porra oficial de los Mexicanos en Miami y sumemos el entusiasmo de nuestra afición. Apoyando al TRI con la porra: Ahí va la Ola...la ola  MÉXICO¸"ø¤º°¨ ¨°º¤øº¤ø MÉXICO ¸"ø¤º°¨ ¨°º¤øº MÉXICO ¸"ø¤º°¨ ¨°º¤¸"
Ahí estaremos todos los Mexicanos en Miami, no hay excusa alguna, para que te pierdas de esta gran emoción  ¡Lleguen temprano!
When & Where

B-Vares Brickell
1250 S Miami Ave
Miami, FL 33130


Wednesday, June 27, 2018 from 9:00 AM to 12:30 PM (EDT)
Add to my calendar
Organizer
Aquí puedes adquirir o reservar tus boletos y entradas para todos los eventos que promueve y organiza Mexicanos en Miami. Para mayor información visita www.mexicanosenmiami.net 

Mexicans in Miami is a media platform that provides a point of reference, linkage and communication between Mexicans and the multicultural community that does business, travel to and reside in Miami.
Join us on the different professional, social and recreational activities we promote and organize, get to know our vibrant community of Mexicans in Miami, be aware of the best Mexican restaurants in town, be part of our celebrations enjoying our Traditions, Tequila and Mariachis and become a friend of Mexico!