Description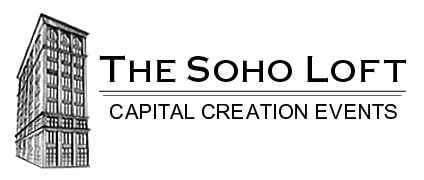 The Soho Loft
and
FundingPost
present

Miami VC & Angel Event
Sponsored by Greenberg Traurig

Interested in meeting early-stage Angel Investors and Venture Capitalists in Miami?

Then register for The Soho Loft and FundingPost event on Thursday, February 28, 2013!

The Soho Loft and FundingPost have hosted 200+ sold-out venture events in 22 cities over the past 11 years.

At this event, the panel of investors will focus on Early-Stage Venture Investing:
How to meet investors, pitch them, and what it really takes to get them to write you a check! We will be discussing trends in Early-Stage Investing, hot sectors, sectors that these Angels and VCs look at, things that are most important to them when they are considering an Investment, the best and worst things an entrepreneur can do to get their attention, additional advice for entrepreneurs, and, of course, the best ways to reach these and other Investors. There will be plenty of time for networking with the Investor panelists, both before the panel & after the panel at the Cocktail Party!

As an additional benefit, entrepreneur 1/4 page summaries will be given to the investor speakers and attendees. All of the Investors will get your company description and contact info!

Register today, as this event will sell-out and seating is limited!

Additionally, there will be an Optional Pitching Workshop Lunch from 11am-1pm. The cost to participate in the workshop will be $350. This Lunch Workshop includes the $75 ticket to the event. Most importantly, it includes a 2-minute Pitching Spot to the Investors during the event!
Location: 333 SE 2nd Avenue, Suite 4400 Miami, FL 33131
Date: Thursday, February 28, 2013
Time: 2pm - 6pm
Cost:
- Entrepreneur Raising Capital - Event: $75
- Entrepreneur Event + Pitching Workshop: $350
- Investor / Service provider: $85


Speakers:
Maurice Lopes is the founder of EarlyShares.com, an equity-based crowdfunding platform. Under Mr. Lopes' leadership, the organization came to the attention of the Start Up America Partnership, propelling EarlyShares.com to be featured on the Startup America website on April 5, 2012, the same day President Obama signed the JOBS Act into law. EarlyShares.com has become a leading force in the newly created Crowdfunding industry, recognized as the leader in the space not only by its peers but also by the media.

Mr. Lopes is on the governing board of the Crowdfunding Professional Association (CfPA).

In the mid-90's, Mr. Lopes developed and formed GICC (Global Interconnect Communications Corp), a company that supplied network services to major U.S. telecommunications carriers such as Sprint, MCI and Frontier Communications. In 1998/1999, he was recruited by the Ministry of Communications to consult on the liberalization of the telecommunications monopoly existent in Peru. Due in no small part to his efforts, deregulation was implemented by 2000 and, along with such carriers as Tele2000/SouthBell (BellSouth), FirstCom (later AT&T), and the incumbent Telefonica, Mr. Lopes' endeavor, Netfax Instatel S.A., was awarded one of the five international long distance operations licenses created under the new peruvian legislation.

In 2003, he became co-founder of HotBrick, an Internet security manufacturer specifically for small businesses. The company secured over 1,000 dealers worldwide in less than three years, with manufacturing in China and operations in Europe, Asia, Brazil and the U.S. Under Mr. Lopes' guidance, HotBrick became a global company employing more than 100 people.
Managing Director
, Caerus Ventures
Gregory Borchardt is a Managing Director at Caerus Ventures LLC, a venture capital and early stage business advisory firm located in West Palm Beach, Florida.

Greg brings more than twelve years of experience running early stage consumer technology companies and a broad knowledge of launching new consumer product lines into mass market retailers in the U.S, and internationally. He was the Founder and Managing Partner of Oxygen Audio North America, a consumer electronics manufacturing company of high-end car audio products including the "O Car," the first car stereo that fully integrated the iPhone into a car's entertainment system. Launched at the 2011 International CES Show, the O Car was both an i-Stage Technology Competition finalist and a 2011 CES Innovations in Design and Engineering Award winner. Prior to founding Oxygen Audio North America, Mr. Borchardt was the Founder and President of Adrenaline Technologies, which developed Turbo Charge™, the world's first line of portable, battery-operated chargers for cell phones and other portable electronics devices. In 2008, Mr. Borchardt was named to the "40 Under 40" list of top young executives in the consumer technology industry by Dealerscope Magazine, the consumer technology retailers' trade magazine. Originally from New York, New York, Mr. Borchardt earned a B.A. in both economics and organizational behavior and management from Brown University in 1999, and an MBA in private equity from the Wharton School of Business at the University of Pennsylvania, in 2003.
Founder, Incubate Miami
Marc is an entrepreneur with domain expertise in software development, data center development, technology acceleration. Work history includes ownership of an ISP, Data Center, Incubate Miami Technology Accelerator, Coopers and Lybrand (as CPA) and Real Estate Development. Marc holds a BA from the University of Pennsylvania in Economics. He has recently launched and funded two startups companies Itopia.us and Boatsetter.com

Angel Investor, New World Angels
Franc is the founder and former President of Hostopia, a Deloitte & Touche "Fast 500" and "INC 500" software as a service (SAS) company specializing in high‐volume/high‐availability web services and solutions. The company successfully went public in 2006 and was later acquired for $122 million. Prior to founding Hostopia in 1999, Nemanic had a successful sales career spanning 10 years in a variety of different companies and industries including Parametric Technology Corp., Tandberg Inc., ADP Claims Solutions Group, and others. In addition, he won many sales awards including President's Club with ADP.

Nemanic is a Member-Investor with the New World Angels, a Strategic Board Mentor with Incubate Miami, and volunteers his time as a member of the Executive Board of MIT Enterprise Forum for South Florida. As a consultant, he has advised numerous startups on how to raise capital and better structure their Marketing and Sales efforts.
Managing Partner, Innovation Venture Fund
Mr. Freschman is a Managing Principal of Innovation Capital Advisors, LLC (ICA). ICA serves as the management company of Innovation Ventures, L.P. (IV), and the Delaware Innovation Fund (DIF). He has served as the President and CEO of the DIF since its establishment in 1995. The DIF is a seed and early-stage venture capital fund that focuses on entrepreneurial ventures in the Mid-Atlantic region. Mr. Freschman has been responsible for all aspects of IV's and the DIF's management since its inception, including the business strategy, fiscal and operational management, raising investment capital, and evaluating all investment opportunities and portfolio company management. Mr. Freschman is also the founder of the first Angel Fund in NYC, ARC Angel Fund.
Mr. Freschman is active in the venture and entrepreneurial communities. He is one of the organizers and initial investors in the Mid-Atlantic Angel Group, where he served on the angel fund's Executive and Investment Committees. He sits on a number of Boards, and has been a lecturer on venture capital, entrepreneurship and angel investing at The White House Conference on Small Business, The Wharton School of the University of Pennsylvania, Temple University, the University of Delaware, Goldey-Beacom College, and Loyola College in Baltimore.

He is the creator and founder of Early Stage East – the premier early-stage venture capital event on the East Coast. In 2001, Mr. Freschman was appointed by Gov. Ruth Ann Minner to chair the venture capital study of Delaware's Strategic Economic Council. Mr. Freschman was appointed and served a three-year term representing New Castle County, Delaware, on the Small Business Advisory Council of the Federal Reserve Bank of Philadelphia through 2002. Prior to establishing the DIF, Mr. Freschman was responsible for the formation of the corporate finance advisory division of McBride Shopa and Company, one of the largest certified public accounting and consulting firms in Delaware. Mr. Freschman began his career with the Enterprise Group of the Philadelphia office of Arthur Andersen, LLP, from 1984 through 1989. Mr. Freschman graduated with honors with an MBA from Loyola College of Maryland and cum laude from the University of Delaware with a B.S. in accounting, where he was a John B. Lynch Scholar. He is also a member of Beta Gamma Sigma – the National Honor Society.
Angel Investor, Miami Innovation Fund
Mr. Repetti has more than 20 years experience as a software developer, technology executive, inventor, and investor. He is currently the CEO of RadWeb Technologies, Managing Partner of the RadWeb Technology Partners startup fund, Chairman of the Board of Silcon Valley-based non-profit Data Portability, as well as a member of the OpenAjax Alliance and Open Web Foundation.
Steve is the author of the highly acclaimed social aggregator Scrapplet, social network site Zude, Web 2.0 browser library xWinLib, and co-wrote the open5G/FGL open source programming language/web server/object database. His efforts have received numerous awards and recognition, and he has been featured in PC Magazine, PC World, eWeek, Information Week, CNET, ZDNET, TechCrunch, ReadWriteWeb, Mashable, and more.
Media Sponsors:

StartupDigest


Organizer of Miami VC & Angel Event
THE SOHO LOFT Media Group (www.thesoholoft.com)
The Soho Loft Media Group is a global financial media company with 3 divisions:
THE SOHO LOFT CONFERENCES organizes up to 200+ investor-focused global summits, talks and events annually.
TIMES IMPACT PUBLICATIONS produces relevant content on investing and entrepreneurship that are published and syndicated in  100+ leading online publications and growing.
VICTORIA GLOBAL Corporate Communications specializes in client Investor Relations, Public Relations, Branding and Social Media Marketing.
The Soho Loft Media Group is your global partner for your investment and business startup and growth strategies.
For additional information, please visit us at www.thesoholoft.com 
or email Donna@LDJCapital.com