Event Information
Location
Bruce W. Carter VA Medical Center
1201 Northwest 16th Street
T.C. Doherty Auditorium (second floor)
Miami, FL 33125
Description
This annual summit provides an opportunity to sustain and enhance positive working relationships to better address the mental health care needs of Veterans and their families. The goal of the summit is to enhance access to mental health services and address mental health care needs of Veterans residing in South Florida. This event is shared by email invitation. To RSVP, click the Attend Event button. If you know someone interested in attending this event, please email Cathleen Kealey at Cathleen.kealey@va.gov.
FEATURED SPEAKER
Judge Steven Leifman
Associate Administrative Judge
Miami-Dade County Court
11th Judicial Circuit of Florida
WHO SHOULD ATTEND?
South Florida community partners of the Miami VA, including policy makers and funders, members of the legal community and law enforcement, community veteran organizations, representatives from partnering universities and healthcare organizations, community mental health professionals and students, Veterans and their families, and engaged community members.
PARKING OPTIONS
Public Transportation. Due to parking limitations at the medical center, please consider using convenient public transportation options. The Civic Center Metrorail stop is across the street from the Miami VA.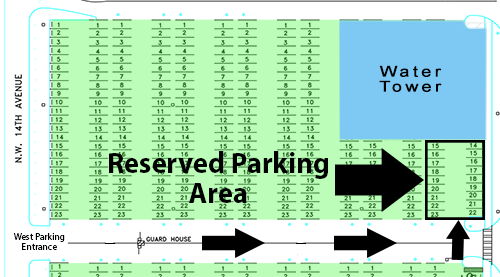 West Parking Lot at the Medical Center. Parking is available in the west parking lot of the Miami VA near the large VA water tower. The entrance to the parking lot is on NW 14th avenue. Please inform the security clerk at the parking lot gate of your attendance at the Mental Health Summit and you will be directed to the closest parking. See map above for designated event parking. To see a larger photo of the parking map, click here.

FOOD
Refreshments will be provided during registration and breaks. Food vendors and trucks will be present by the west patio for lunch options following the program.
SEATING
Open house, auditorium
COMMUNITY PARTNER PROGRAM MATERIALS
If you wish to share your organization's materials/handouts there are two options available, please contact Cathleen at 305-575-7237 or email Cathleen.kealey@va.gov to arrange pick up or delivery of materials. Your items will be included in an event bag given to each attendee. Items to be received before December 23, 2018.
FOR MORE INFORMATION, CONTACT
Cathleen Kealey, BSN, RN-BC
Local Recover Coordinator
Cathleen.Kealey@va.gov
305-575-7237
Gloria Lewis, MSN, RN
Suicide Prevention Coordinator-Lead
Gloria.Lewis@va.gov
305-575-7000, ext. 3914
To learn more about the Miami VA Healthcare System, visit us at www.miami.va.gov, www.facebook.com/miamivamc or at www.twitter.com/miamivamc.
Date and Time
Location
Bruce W. Carter VA Medical Center
1201 Northwest 16th Street
T.C. Doherty Auditorium (second floor)
Miami, FL 33125