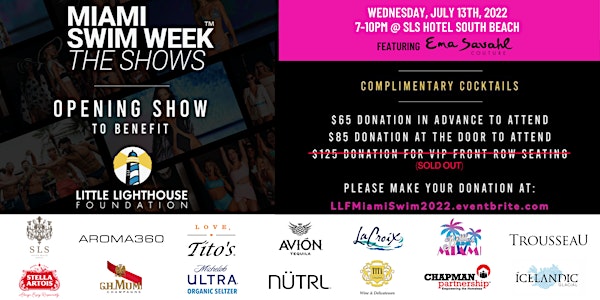 Miami Swim Week Shows Opening Show Benefitting Little Lighthouse Foundation
Join Miami Swim Week Shows Opening Show Benefitting the Little Lighthouse Foundation for Miami Swim Week!
When and where
Location
SLS South Beach 1701 Collins Ave Miami Beach, FL 33139
Refund Policy
Contact the organizer to request a refund.
About this event
On July 13th, 2022, Miami Swim Week Shows will host its opening show to benefit the Little Lighthouse Foundation featuring Ema Savahl Couture Swim at the SLS Hotel South Beach from 7–10 pm. Guests will enjoy 3 hours of complimentary cocktails featuring products from Tito's Handmade Vodka, Avion Tequila, G.H Mumm Champagne, Michelob Ultra Organic Seltzer, Tita Italian Wine, and NÜTRL Vodka Soda as well as mocktails from LaCroix Sparkling Water and water from Ícelandic Glacial.
LLF will provide an experience of a lifetime for Angel and Ariel from Chapman Partnership to participate in the runway show.
A minimum $65 donation is required to attend in advance, a minimum $85 donation is required at the door. Limited VIP Front Row seating is available for those who make a minimum $125 donation. Please make your donation at LLFMiamiSwim2022.eventbrite.com.
All proceeds from this event will go towards LLF's programming! To learn more about LLF's DGFG Programming please visit TheLittleLighthouse.org.
A special thank you to our partners Aroma360, Trousseau, and Bottled Blonde!
TERMS AND CONDITIONS
IN NO EVENT WILL LLF, ITS EMPLOYEES, OFFICERS, DIRECTORS, AGENTS, CONTRACTORS, EVENT PRODUCERS, SUPPLIERS, AND SPONSORS AS WELL AS THE VENUE, BE RESPONSIBLE OR LIABLE TO YOU OR ANYONE ELSE FOR, AND YOU HEREBY KNOWINGLY AND EXPRESSLY WAIVE ALL RIGHTS TO SEEK, DIRECT, INDIRECT, INCIDENTAL, SPECIAL OR CONSEQUENTIAL DAMAGES OF ANY TYPE ARISING OUT OF OR IN CONNECTION WITH THE EVENT, REGARDLESS OF WHETHER THE CLAIM IS BASED UPON ANY CONTRACT, TORT, OR OTHER LEGAL OR EQUITABLE THEORY. WITHOUT LIMITING THE FOREGOING, YOU EXPRESSLY ACKNOWLEDGE AND AGREE THAT NEITHER LLF NOR ITS EMPLOYEES, OFFICERS, DIRECTORS, AGENTS, CONTRACTORS, EVENT PRODUCERS, SUPPLIERS, AND SPONSORS AS WELL AS THE VENUE WILL HAVE LIABILITY OR RESPONSIBILITY WHATSOEVER FOR (a) PERSONAL INJURY OR PROPERTY DAMAGE, OF ANY NATURE WHATSOEVER, WHETHER ARISING IN CONTRACT OR IN TORT, RESULTING FROM YOUR ACCESS TO AND ATTENDANCE AT THE EVENT. THE LIMITATIONS IN THIS SECTION WILL APPLY EVEN IF ANY LIMITED REMEDY FAILS OF ITS ESSENTIAL PURPOSE. THE ALLOCATION OF RISK BETWEEN US IS AN ESSENTIAL ELEMENT OF THE BASIS OF THE BARGAIN BETWEEN US AND IS CONSIDERATION FOR YOU TO ATTEND THE EVENT. SOME JURISDICTIONS DO NOT ALLOW THE EXCLUSION OR LIMITATION OF DAMAGES, SO THESE MAY NOT APPLY TO YOU. IN SUCH CASES, OUR LIABILITY WILL BE LIMITED TO THE FULLEST EXTENT PERMITTED BY APPLICABLE LAW. IN NO EVENT WILL ATTORNEYS' FEES BE AWARDED OR RECOVERABLE.
License; Ejection and Cancellation; No Redemption Value: LLF reserves the right, without refund of any amount paid, to refuse admission to, or eject, any person whose conduct it deems disorderly, who uses vulgar or abusive language or who fails to comply with the event rules. Breach of terms or rules will terminate your license to attend the event without refund. A ticket is a revocable license and admission may be refused upon refunding the ticket's face amount. A ticket is not redeemable for cash.
You Are Subject to Search: You and your belongings may be searched on entry to the event. You consent to such searches and waive any related claims that may arise. If you elect not to consent to such searches, you may be denied entry to the event without refund or other compensation. Under certain facility rules, certain items may not be brought into the premises, including without limitation, alcohol, drugs, controlled substances, cameras, recording devices, laser pointers, strobe lights, irritants (e.g., artificial noisemakers), bundles and containers.
By making a donation and registering for this event, you acknowledge that you are 21 years or older and you give LLF the right to photograph, videotape or otherwise record or collect your name, likeness, voice and sounds ("Works") during your attendance at the event. You irrevocably assign and grant to LLF all rights in these Works and the right to use or sublicense these Works and your name, likeness and biography, in LLF's discretion, in all media and for any purpose, including without limitations, advertising and other promotions for LLF, without any further consideration to yourself, your heirs, assigns or legal representations, and without any right to review any such use beforehand.
ACCEPTANCE OF TERMS OF USE:
By using this site and/or making a donation, you signify your agreement to the terms of this agreement. If you do not agree to the terms in this Agreement, you must not make a donation to LLF to attend the Event.
To learn more about The Little Lighthouse Foundation or to register to volunteer, visit www.TheLittleLighthouse.org or Download our LLF App.