Description
This 90min Sunset Boat tour will have you grabbing for your camera, Sunset on Miami 's Biscayne Bay is amazing as the Magic city awakes lighting up the water ways and it's well know Millionaires Row. Star and Hibiscus Island, where Miami's celebrities live in play in beautiful mansions built alongside the water's edge. Our local celeb residents like Gloria Estefan, Ricky Matin, Madonna to Puff Daddy and Birdman to name a few, See Miami's spectacular coastal sites including the beautiful downtown Miami skyline, the Port of Miami, American Airlines Arena.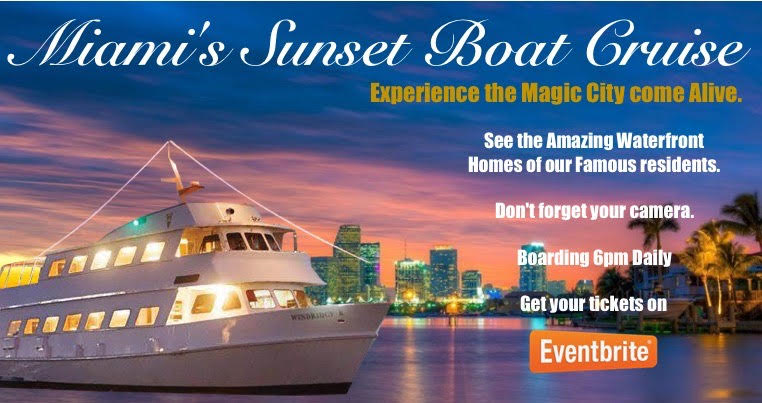 Our Boat , offer the utmost in comfort and style for up to 140 passengers, this vessel is equipted with an air-conditioned lower level, as well as an upper-deck where you may take in the fresh ocean breeze and an awning that will protect you from direct sunlight and light seasonal showers. Guest can purchase their favorite soft drink, cocktail or light snack from our full cash bar On-Board.
Please arrive 30 minutes prior to departure to receive your boarding passes.
//