Miami Ribfest 2013

Multiple Dates
Event Details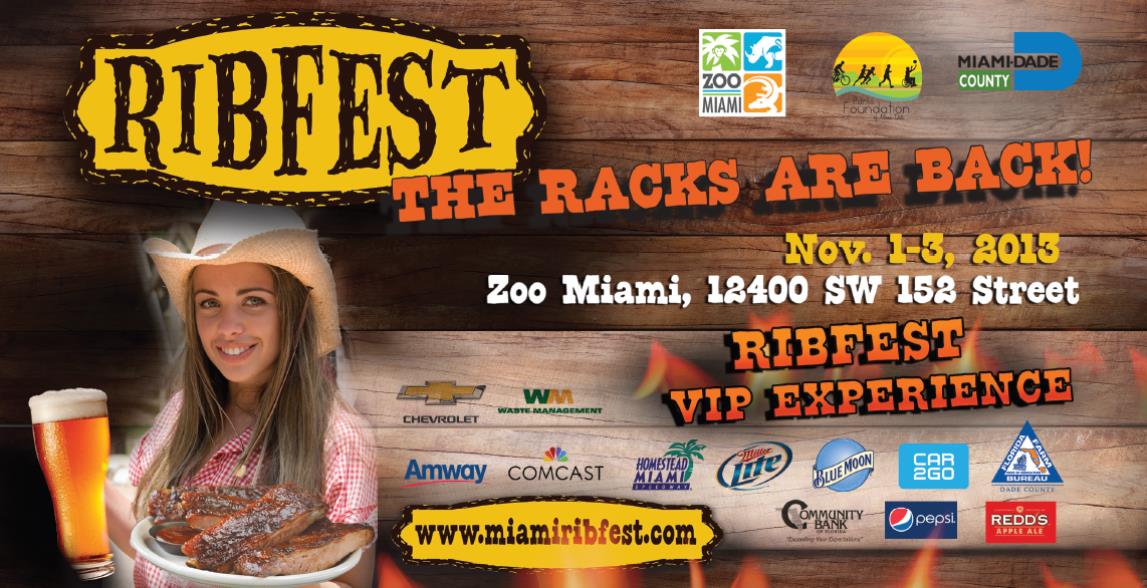 Prize-winning barbecue is the main feature of this three-day barbecue cook-off and festival with local and national ribbers competing for best ribs, chicken, brisket, pork and sauce.   Ribfest includes great live music from local artists providing a rockin' soundtracks. In addition to great barbecue and live music, Ribfest will include a farmers market, children's activities, arts & crafts and cooking demonstrations.
Food and drinks NOT included in General Admission and Zoo/Ribfest combo tickets.
***Zoo Hours Hours***
9:30 AM - 5:30 PM  (entrance gates & ticket booths close @ 4:00 PM)
All sales are final. There is NO rain date, In case of inclement weather, management reserves the right to cancel/alter/modify the event for safety concerns. In any case there will be No Refunds.
Organizer
The Parks Foundation of Miami-Dade
ABOUT THE PARKS FOUNDATION OF MIAMI-DADE

The Parks Foundation of Miami-Dade is a 501(c)3 organization which supports the Miami-Dade Park and Rec-reation Department and its mission to help build a world-class parks system for Miami-Dade County residents and visitors, by creating a healthier, more livable and sustainable community by supporting the Open Space Master Plan vision and principles and year-round local park and recreation programs.

Monies raised through membership and fundraising efforts help fund scholarships for disadvantaged children to attend after-school and summer camp programs; recreational and community programs, such as disability ser-vices, and health and wellness initiatives for people of all ages, from the very young to senior citizens; and Open Space Master Plan initiatives, such as the development of Trailways, Bikeways and safe access to parks and open spaces.