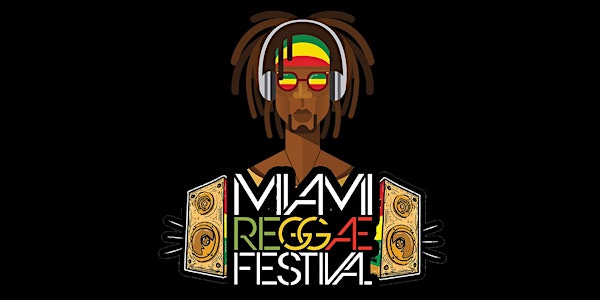 Miami Reggae Festival 2021
Miami Reggae Festival 2021 Celebrates Jamaica's Independence Weekend with a Call for Healing the Community through Sound System Culture.
When and where
Location
Opa-Locka Marketplace 12691 NW 42nd Ave Opa Locka, FL 33054
About this event
Miami Reggae Festival weekend takes place on Saturday, August 7th and Sunday, August 8 th, 2021.
In their seventh year of presenting Miami Reggae Festival, AfriKin Foundation and Rockers Movement go back to basics with a shift toward Jamaica's Sound System Culture in solidarity, building on the foundation of the positive vibrations of Reggae and symbolizing the self-determination of our communities to survive. The Annual Miami Reggae Festival 2021 celebrates the 59th year of Jamaica's Independence with a call for healing the community and featuring some of the very best of Sound Systems (in alphabetical order): Adonai Sound, Bass Odyssey, Big Life Sound, Downbeat The Ruler, King Addies International, King Champion, King Waggy Tee, MetroMedia, Ontrack Disco, Overproof Movements, Poison Dart, Rocksteadyy, Soul Supreme, Stone Love, Super Storm, Warrior Sound International and hosted by Mutabaruka.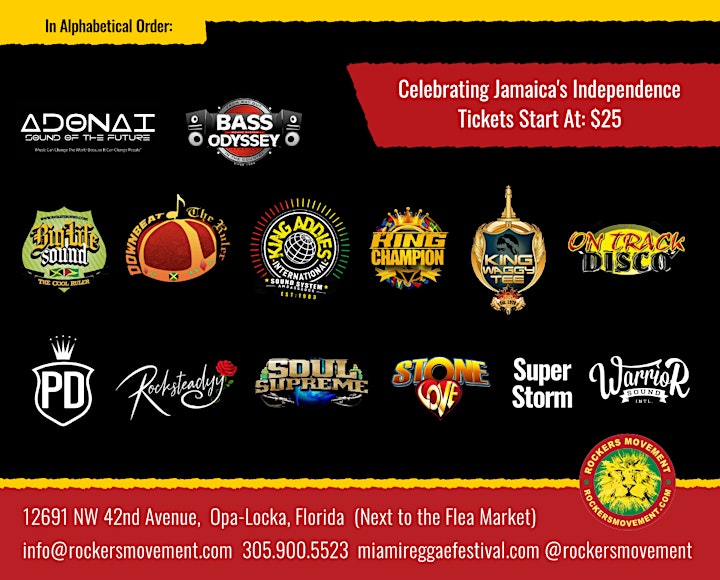 ATTENTION MIAMI REGGAE FESTIVAL 2021 ATTENDEES!
SET TIMES
We know you're all stoked to start mapping out your Miami Reggae Festival 2021 experience so head over to www.rockersmovement.com and start planning your day!
FESTIVAL TIMES: 3PM
We're starting the party early and keeping it going late! Doors open at 2pm so plan accordingly and get there early. Don't forget to stay hydrated and pace yourself cause the last set doesn't end until 1am!
SATURDAY
GATES 3:00 PM
GALAXY SOUND 3:30 PM
BIG LIFE SOUND 4:30 PM
SHELLY SWEEET SHELLS 5:30
KING CHAMPION 6:00 PM
OVERPROOF MOVEMENTS 7:00 PM
ADONAI 8:00 PM
CITY OF OPA LOCKA PRESENTATION 8:50 PM
DOWNBEAT THE RULER 9:00 PM
METROMEDIA Featuring CONROY SMITH + MICHAEL PALMER 10:00 PM
POISON DART Featuring CAUSION 11:00 PM
KING ADDIES 12:00 AM
SUNDAY
GATES 3:00 PM
METRIX SOUND 3:30 PM
SUPER STORM 4:15 PM
ROCKSTEADYY 5:00 PM
ONTRACK 6:00 PM
KING WAGGY TEE 7:00 PM
BRIGADIER JERRY ON DOWNBEAT 8:00 PM
BASS ODYSSEY 9:00 PM
STONE LOVE 10:00 PM
SOUL SUPREME 11:00 PM
DUE TO TRAVEL RESTRICTIONS OF THE USA CURRENTLY NOT ALLOWING TRAVELERS FROM EUROPE INTO THE COUNTRY WARRIOR SOUND INTERNATIONAL WILL NOT BE IN ATTENDANCE.
ROCKERS VIP AREA
For all our VIP and High Roller ticket holders, we're bringing you the best for you to hold it down in the VIP area all day long.
NEED A HOTEL?
Go to our travel page for a list of local hotels and availability: http://rockersmovement.com/hotels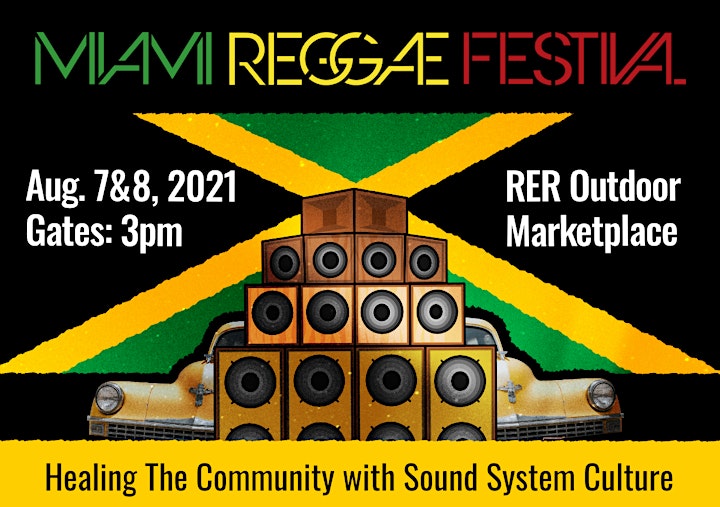 Miami Reggae Festival fuses food, arts and Reggae to raise awareness about extreme poverty as we come together for healing during Jamaica's Independence weekend – a time of reflection on our individual contributions, for reverence in appreciation of what we have, for levity and lightheartedness, and also for peace as we expand our consciousness through the joy of celebration and charitable giving. Festival Founder, Alfonso Brooks, stated that, "We are reaching out to help people come together in peace and love for each other with the tools we know best – music and food to soothe the lockdown blues. Families have been stressed and communities are in need of healing. At this time of a global reset, it is imperative to go back to the foundations of music and culture to remind each other of the power of one love and unity as tools for collective advancement. We are utilizing the energy of old school Jamaican Sound Systems, saluting its pioneers, and emphasizing their value and influence on music and culture today".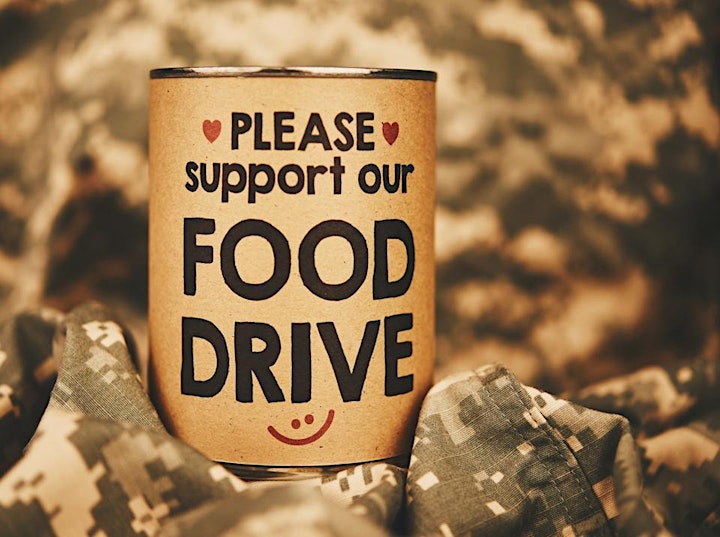 In recognition of COVID-19 regulations, we continue to practice safety precautions. Miami Reggae Festival will continue to keep fundamentals in place – temperature checking, masking, distancing, EPA approved disinfecting, CDC food service guidelines, and staying home when sick to protect all of our residents and visitors. Free disposable masks are available at the gate and throughout the venue on event day. Miami Reggae Festival enforces the continuance of practicing social distancing and the need to keep safe during public gatherings.
Miami Reggae Festival takes place on Saturday, August 7th and Sunday, August 8th with doors opening at 3:00 PM (EDT) at the brand-new Opa Locka Marketplace, 12691 NW 42nd Avenue, Opa Locka, FL 33054 (next to the Opa Locka Flea Market). Tickets start at $25 in advance plus a mandatory minimum two non-perishable food items for entry. Miami Reggae Festival is family-friendly with children under 12 admitted free when accompanied by an adult. Tickets are available online at: http://miamireggaefestival.com