Description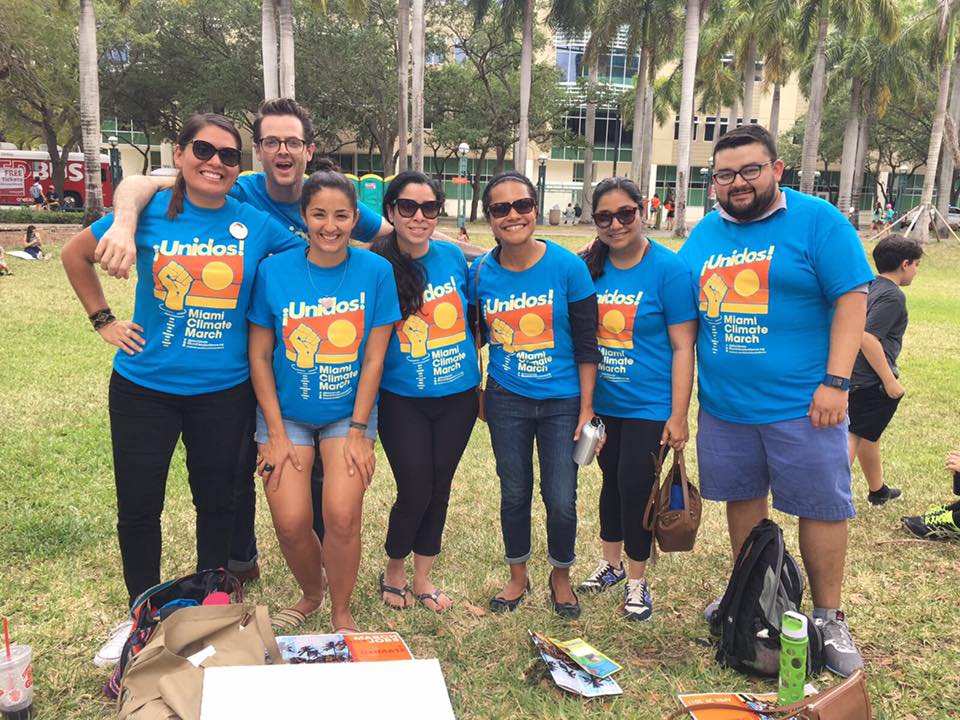 GET YOUR OFFICIAL T-SHIRT AND BUTTON HERE, COMPRA TU CAMISETA Y BOTON OFICIAL AQUI: http://progressiverags.com/miclmat.html
MIAMI RESIDENTS JOIN NATIONAL PEOPLE'S CLIMATE MOVEMENT TO MARCH FOR JOBS, JUSTICE AND CLIMATE
THE CITY OF MIAMI LEADS THE NATION IN PROPERTIES AT RISK DUE TO CLIMATE CHANGE
MARCHERS ARE INVITED TO BRING THEIR MARACAS AND DRUMS TO CELEBRATE OUR PLANET
What: Miami People's Climate March
Who: Miami Climate Alliance
When: Saturday, April 29, 2017 at 1p.m.
Where: Jose Martí Park 351 S.W. 4 Street Miami, FL 33130
MIAMI (March 26, 2017) – Residents of the city of Miami are poised to join the People's Climate Movement with a mass mobilization to march for climate, jobs and justice on Saturday, April 29th. Dozens of local organizations, residents, artists, performers, indigenous, civil rights and environmental justice groups will work together to elevate awareness about climate change, and work together to build bold solutions to protect our planet.
The march commences at the historical Jose Martí Park in the heart of Little Havana, followed by a second stop at Government Center and concludes in Overtown's landmark Lyric Theater.
Miami is an eclectic mix of cultures and the Miami People's Climate March will honor its vibrant neighborhoods with performances by Latino, Indigenous and Afro-Caribbean and African artists, dancers and musicians. The march will open with an indigenous water ceremony led by the by Love the Everglades, alongside indigenous activists from Peru and Canada. Grupo Karibe's "salsa explosion" will join as marchers start their journey through some of Miami's frontline communities. Other performances include Kuyayky, Ra Ra Roots Rock Rasin, Inez Barlatier and Michael Gil. Afro-Caribbean performers and drum ensembles will lead the march and provide an exciting culmination to the event.
Participants are invited to wear festive artistic or cultural clothing and bring along percussion or other instruments to march to drum beats and celebrate the planet.
The march takes place a week after Earth Day and marks the 100th day of the Trump Administration. The city of Miami is poised to suffer the greatest economic losses due to rising sea-levels, and our low-income, frontline communities will bear the biggest impact. Facing sea-level rise, water contamination and perilous tropical diseases and extreme weather changes, the city of Miami's residents must ensure their city is protected from the perils of climate change.
The world is working in concert to protect the planet and no more than ever there's growing awareness about the urgency to protect our land and our communities. It's time for the city to lead this battle against climate change.
Seas are rising. So are we.
-------------
Descripción
Únase al Miami Climate Alliance (Alianza de 80+ organizaciones en busqueda de Justicia Climatica en Miami), Miami-Dade Women's March (la division de Miami-Dade de la Marcha de Mujeres), Union of Concerned Scientists (Sindicato de Científicos Preocupados [por el futuro del pais] ), a 350.org, a SEIU, a grupos comunitarios de primera línea y a cientos de miles de personas mientras caminamos juntos por todo el país para una acción fuerte y rápida para prevenir los peores impactos del cambio climático.
Fecha: Sábado, 29 de abril
Lugar: Parque José Marti, Miami 1:00 pm
Tenemos que enviarle un mensaje al gobierno de Trump para que sepan que no toleraremos la inacción al cambio climático.

Durante los primeros 100 días de la presidencia de Donald Trump, les pedimos que se unan al People's Climate Movement (Movimiento del Clima del Pueblo} y al Miami Climate Alliance (Alianza de Justicia Climática de Miami) y se comprometan a una acción fuerte y positiva: movilizar en masa en la capital de nuestra nación y el resto del promoviendo la ciencia, la justicia climatica y la promocion, uso e construccion de soluciones de energía limpia.